Barking Heads All Hounder Fat Dog Slim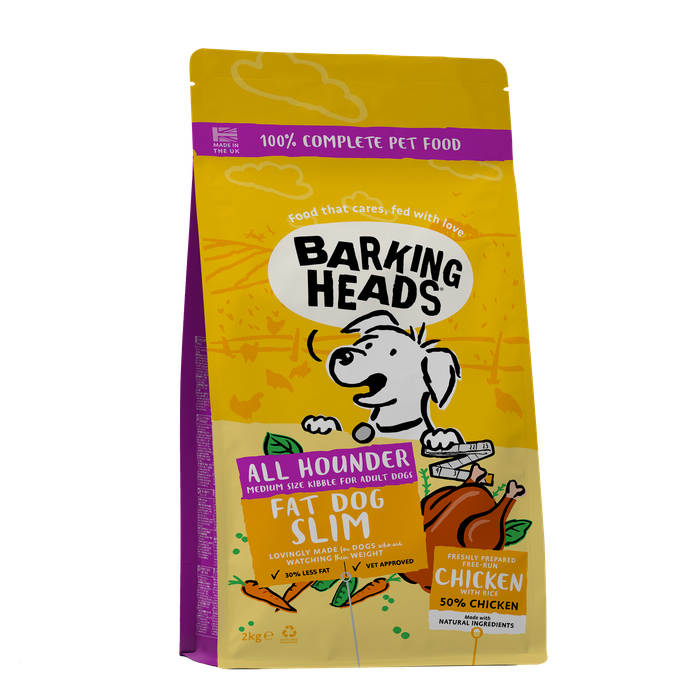 50% FREE-RUN CHICKEN - Our Fat Dog Slim dry dog food is made with tasty freshly prepared free-run chicken, blended with generous portions of healthy grains & vegetables, like rice, peas & carrots

NATURAL INGREDIENTS - We believe in the power of natural ingredients! Our recipe is crafted with only the best quality, natural ingredients and contains absolutely no nasties & no fillers. That's a promise.

WEIGHT MANAGEMENT & JOINT SUPPORT - Less fat, healthier joints! With 30% less fat and added glucosamine & chondroitin, our recipe helps manage weight and keep joints strong. A tasty choice for a trim pup with strong joints!

LONG LASTING FULLNESS & BODY CONDITION - Stay satisfied, look fantastic! Packed with slow-release carbs from oats and L-carnitine, our recipe keeps your dog fuller for longer and in tip-top shape. A delicious way to keep tails wagging and bodies healthy!

APPROVED BY THE BEST - Our natural dog food isn't just loved by pets; it's also approved by expert vets and specialist pet retailers! When it comes to quality and trust, we've got the stamp of approval from the ones who know best. It's a testament to our commitment to providing the best nutrition for your furry family member.