Buddycare Salmon Oil 500ml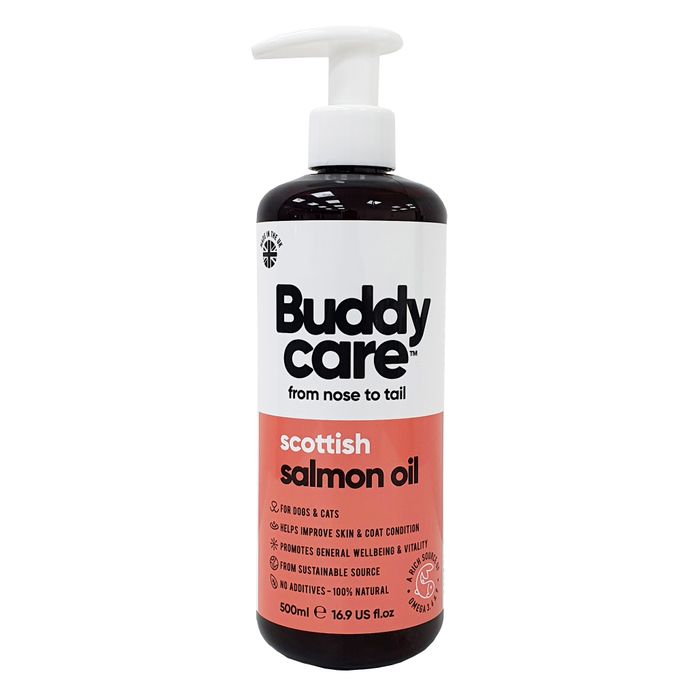 Introducing Buddycare Scottish Salmon Oil, the ultimate elixir for dogs and cats! Keep their coats in tip-top condition with this omega-rich oil that's packed with fatty acids (omega-3, 6, and 9). It not only enhances their skin and coat condition, but promotes general wellbeing and vitality.

Unlock the potential of nature's health booster with Buddycare's Scottish salmon oil! Whether it's your playful pup or your graceful kitty, the nourishing powers of salmon oil help improve cognitive function, support the immune system, and give your precious four-legged friends a fin-tastic boost to their overall health. Buddycare Scottish Salmon oil doesn't stop there! It's a skin-soothing, fur-nourishing superstar that your furry companions deserve. With the help of omega fatty acids, it soothes dry, itchy skin and brings life to their coats.

At Buddycare, we're committed to the well-being of all animals, and that's why our salmon oil is ethically sourced from sustainable Scottish salmon farms. Every paw-some drop not only enriches your furry friend's life but also contributes to saving the world, one eco-friendly choice at a time!

From petite purring kittens to XL-ent big dogs, Buddycare Scottish Salmon Oil is a treat for all furry friends aged 10 weeks and older. With our handy dosage guide, you can ensure that every fur baby gets the paw-fect amount of this wholesome goodness.

You know your best friend better than anyone, and Buddycare knows grooming like the back of its paws! So pamper your pets with the best, and let them experience the wonders of Buddycare Scottish Salmon Oil.