CAZO - Design for Pets
Stand: L24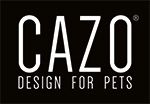 CAZO Design for Pets - created with love.
For over 20 years CAZO is designing, manufacturing and distributes pet care products worldwide. With our experience we support our clients in over 30 countries around the globe.
We specialize in manufacturing pet products and well - being solutions for companion animals.
Our success is build on knowledge, passion and love to animals.
We focus on original design, innovation, luxury materials as well as on promotion of ecological awareness and naturalness.
Apart from our own brand we supply private label production.
We invite you to visit us at stand L24.
Address
UL Rakowska 1
Czestochowa
42-208
Poland
We're sorry, but we couldn't find any results that match your search criteria. Please try again with different keywords or filters.
Special Offer: discounts up to 30%

Discounts up to 30%

This offer is only available at the show