Goodchap's at Dogstival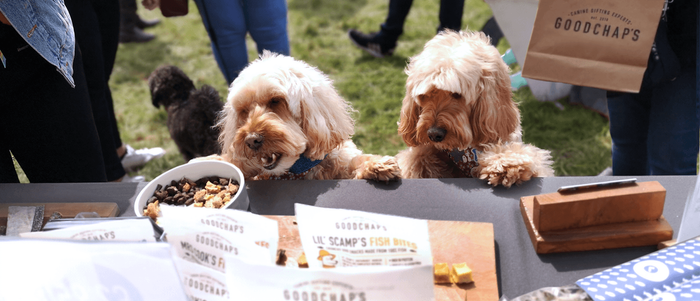 Goodchap's the canine gifting experts believe that keeping our four legged friends healthy is just as important as keeping them happy. So healthy and delicious treats are a must! Fish is naturally low in fat, hypoallergenic, wheat free, gluten free, rich in omega 3 and high in protein so there aren't many places better to start when creating dog treats than fish.
When making dog treats from the humble fish, it's very important to keep them as natural as possible, so not using any preservatives or additives is vital. This also helps to retain the exciting aroma and taste of the sea, which dogs love.
Variety is also important when treating your dog; different textures, tastes, sizes and varying chewiness and crunchiness are very important to keep away the boredom. Whether you want to reward your pooch with a quick and crunchy Lil' Scamp's Fish Bites or keep them busy with a long lasting Whitefish Jerky, Goodchap's really have got all the bases covered.
As well as wanting the best for your dog, the lovely peeps at Goodchaps have gone one step, or should we say one paw further by launching their 'Treat a dog in need' campaign. For every pouch of Lil' Scamp's, Mrs Cook's or Mr Fisher's you purchase, they send treats to dogs in need at Amicii Dog Rescue. Not only do they think your dogs deserve the best but also what's best for the whole planet by striving to be as eco-friendly as possible. So, as well as sustainably sourcing their fish from established and trusted British fish merchants and making sure none of our waste goes to landfill, all of their dog treats are packaged in plastic free, compostable and recyclable pouches. Happy dogs.. happy planet.
So the next time you buy your dog some treats, remember that they don't have to be just treats. They can be healthy, tasty, good for the planet and also put a treat in the mouth of a dog less fortunate than your own pooch! Woof!