2019 marks Nutriment's most successful year at Crufts® to date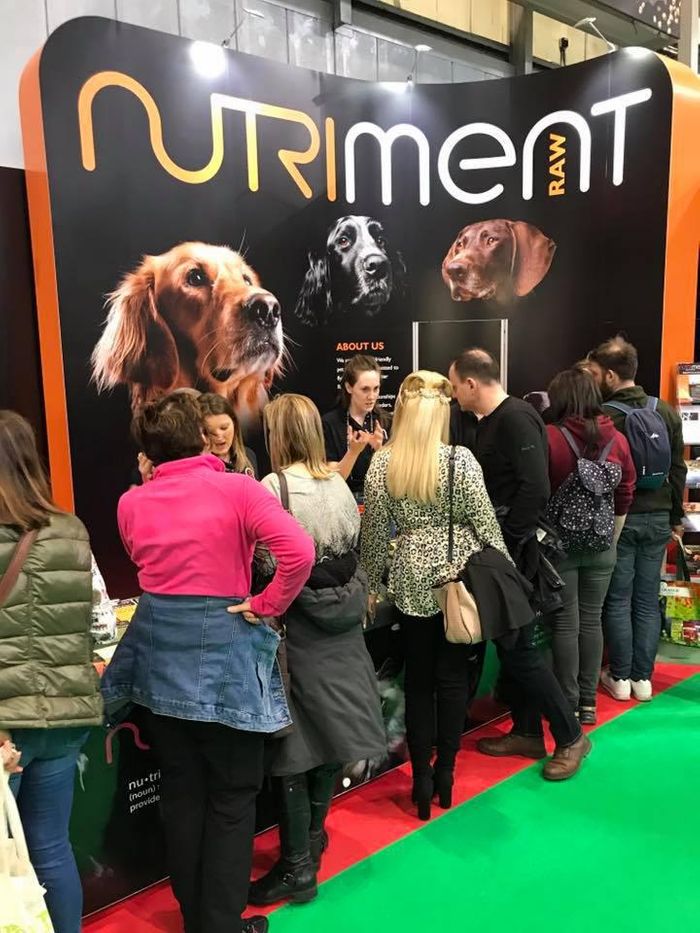 Nutriment, an award-winning industry leader in the innovation and formulation of premier, raw dog and cat foods, has reported fantastic success at this year's Crufts®: the world's largest dog show. Now in its 118th year, the four-day international event welcomed 27,000 dogs, from 44 countries, to the NEC in Birmingham earlier this month. Nutriment first attended Crufts as exhibitors at the trade show in 2014 - eight months after their establishment - and have returned every year since.
"Crufts is a calendar highlight for anyone involved in this industry, and this year certainly did not disappoint," comments Suzanne Brock, Managing Director of Nutriment. "We found it incredibly interesting to observe that visitors had done considerable research on canine nutrition and the BARF diet before attending the show. We were welcoming visitors who were specifically looking for us as raw food formulators, whereas in past years we've spent more time educating visitors on the benefits of raw feeding. It truly demonstrates a clear shift in the attitudes and demands of consumers in our industry today."
As well as being a point-of-sale to an audience of over 160,000, the show is simultaneously the optimal platform to increase brand exposure and awareness, and an opportunity to educate and reinforce the principles behind the BARF diet and lifestyle. Biologically Appropriate Raw Food and raw feeding are approaches to animal nutrition which reserves nutrients and avoids over-processing of dog and cat food. There are numerous benefits associated with raw feeding, of which some include improved overall health, digestion, oral health, skin and coat health and mental health. Nutriment enhance this method by selecting only high-quality, premium meats, bones, offal and superfood ingredients for all of their recipes.
The show also proved to be a perfect opportunity to promote Nutriment's current survey; the intention of which is to provide insight into dog nutrition and health. The company plan to use the collected data to publicise the positive impact of raw diets and nutrition on canine health and develop new raw products and solutions; once again showcasing that innovation truly is a fundamental principle for the team at Nutriment. The survey has already been filled in over 1,000 times. More details on the survey can be found at the following link: https://community.nutriment.co.uk/
Celebrating its sixth year of trade this year, Nutriment's successful week at Crufts follows a recent series of exciting announcements and developments from the company; which include portfolio and brand extensions and production facility expansions. The Nutriment Support product range – nutritionally supportive raw meals for ongoing health concerns - was also awarded 'Best New Product' at UK pet trade event PATS Sandown last month.