Artur Broszko, pet shop entrepreneur and UK distributor of award-winning Woolf Snacks, is celebrating ten years in business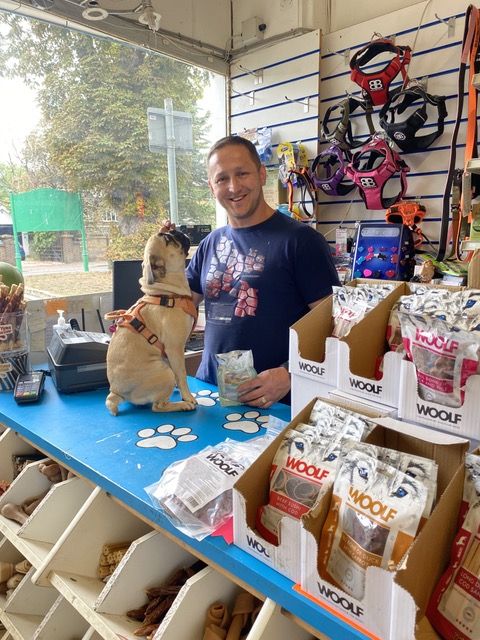 Artur Broszko, pet shop entrepreneur and UK distributor of award-winning Woolf Snacks, is celebrating ten years in business with his shop, Mucky Pups and is gearing up for PATS Telford with the launch of a new Soft Cube product range.
Multiple Surrey-based pet shop owner and distributor of Woolf Snacks UK, Artur Broszko is celebrating 10 years ownership of his pet shop, Mucky Pups and is gearing up for (PATS Telford 1-2 October, Stand F70) with the launch of a new product range, Soft Cubes.
Artur came to the UK from Poland in 2004 starting as a roofer/carpenter. In 2009 he decided to have a career change and started working for a small wholesaler called Twickenham Pets. Two years later, his employer, Ronald retired and Artur decided to take over his business and change the name of the shop to Artex Pets Supplies which is now based in Epsom. In 2013 Artur and his brother took over another shop in Putney, Mucky Pups. From then onwards the empire grew to include Tail End in Hampton, Natureworld Pet Shop in Cobham jointly owned with his business partner, Trevor, Ellis Pet Store in Shepherds Bush Market where one member of staff, Sue has worked for over 40 years and finally , Bros Pets in Cheam where Artur and his wife, Justyna work.
Running the pet shops is very much a family affair as Artur explains,
"My wife Justyna works in Bros Pets shop and Natureworld. Most of the half terms and school holidays my two sons Aston and Leo join us at our work helping with serving customers and deliveries. Tail End shop is covered by my brother and my sister- in- law, Sarah. In the Mucky Pups shop works our friend Mandy, and her daughter, Amy, who is a groomer who is also often joined by her 2 year old son, Bruce.
"We have regular customers who have come to us for years now. Sometimes they just pop in to the shop just to say hello on a morning walk or to have a chat. For us it's not only 'buy & go'. We love to talk to our customers, trying to find products which meet their expectations. They know that we are a family run business and they are happy to support local independent shops and always ask about our kids etc. We also do deliveries to our elderly and disable customers as well."
A successful spin off from running the pet shops has been the distribution of Woolf Snacks in the UK.
"I was selling Woolf in my shops and there was issue with the supply so I contacted Fillippe the owner of the company in Czech Republic and I became UK distributor in 2017 when I did my first PATS, In 2019 I won a new product award at PATS Telford for our Natural Bone with vegetables, glucosamine and chondroitin snack."
Artur believes that the success of the Woolf range is not only the extensive product range and varieties but also the fact that the snacks and treats are natural with a high meat content of 90-100% per 100g. The Woolf range does not compromise on weight as other brands often do. The Woolf snack, once cooked, is packed without any chemical additives, preservatives or colourings. To ensure the conservation, an oxygen absorber is placed within the bag. Artur only supplies independent pet shops as well on an exclusive basis.
At PATS Telford the Woolf Snacks UK stand will feature their full range of Woolf, Woolfies, Nohide products and their new Soft Cube range which come in 11 tasty meat and fish varieties. There will be a PATS offer to the trade on these, buy 3 and get 1 free.
Artur is looking forward to the next ten years of trading and says,
"I want to see my shops grow and for Woolf Snacks to be everywhere. We want to have more happy customers and to continue to provide great customer service,"
For further information please visit:
www.woolfsnacks.co.uk