Biggest ever PATS show gets off to a flying start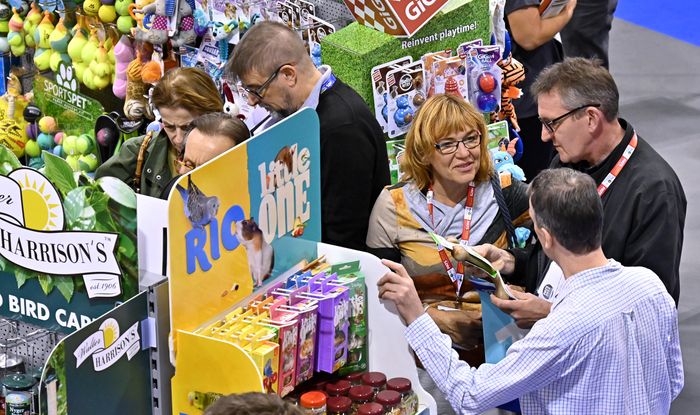 The opening day of PATS Telford was buzzing with excitement as visitors flocked to see the record number of trade stands and pet industry innovations on show.
Exhibitors were delighted by the number of enquiries and orders generated on Sunday, with many rushed off their feet for the entire day.
The two-day event is the biggest in PATS history with all three halls of Telford International Centre being used for the first time.
More than 240 companies and brands are showcasing their products, with many start-up businesses taking advantage of the New Starter Zone in Hall 3, which is new for this year.
Gerard O'Mahoney, Managing Director of Pedigree Wholesale, summed up the mood of exhibitors, saying: "There is a great buzz in the exhibition halls. I love this show because the whole industry comes together as one. The time flies by because we are always so busy."
Huskaloo coconut cat litter founder Tracey Voss, a regular at PATS since she attended the first show at Sandown in 2009, said Telford 2022 had been "buzzing…the best first day I've had at PATS for many years".
It was a similar story for Becky Davies, Sales Director of JR Pet Products, who said: "We absolutely love PATS and everything about it. It gives us the opportunity to meet our customers old and new and to showcase everything that we do. In fact, we love it so much we were determined to come even though we had a big warehouse fire just days before. It's definitely worth it."
One of the highlights of the show is the New Products Showcase where a record number of more than 340 items are displayed in Halls 1 and 2.
First-time exhibitor Lois Saunders, Director of Twiggy Tags, said: "I am bowled over by PATS. We are a new start-up so this is our first time and I'm over the moon. The show gives me the opportunity to really show retailers the quality of our products and the energy and effort that has gone into designing every detail. To win a New Product Award is just the icing on the cake."
HayPigs! was another exhibitor to win a New Product Award, and co-founder Rik Cridland said: "It's invigorating, it's exciting. We haven't landed a whole new range like this since 2017, and we won a New Product Award then as well. It really gives you a boost. We've had lots of retail interest plus some international inquiries and new leads. Lots of opportunities are opening up."
The first day of the show also got the thumbs-up from visitors.
Claire Gavin, former director of Pets at Home and now a retail consultant, said: "PATS is so important for the UK pet industry. Being able to see all the latest new products under one roof is what makes this show so special."
And David Gunn, of Darwin's Pet Supplies, Stoke-on-Trent, added: "It's a great show that keeps getting bigger. There's so much to see and I'm struck by the level of innovations coming to the market. I'm enjoying every moment at this fabulous event."
The second day of the show – Monday, September 26 – will open at 9.30am.
Ends
Photographs of PATS Telford are available to download from https://stewartwrittle.dphoto.com/album/xyaf42
For more information contact Neil Pope at press@impact-exhibitions.com