CarSafe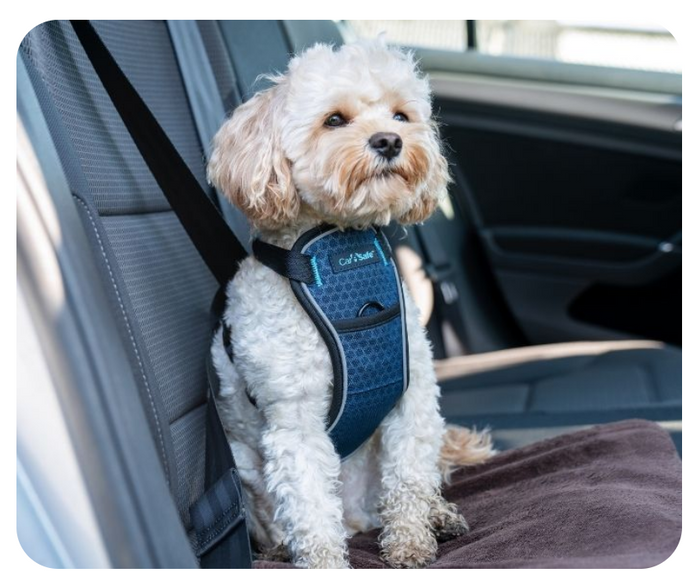 The experts behind the Halti™ brand have followed the procedures and methods used in the Child Passenger Protection Research Program (FMVSS 213) and undertaken meticulous crash testing at a registered research facility to launch the range of products to help everyone to abide by the law.
Company of Animals are determined to spread awareness on the importance of securing our dogs when we travel by car. By commissioning the prestigious University of Michigan Transportation Research Institute (USA) Dr Roger's team have launched a self-certified range of product to help everyone to abide by the law. In addition, Company of Animals continue to deliver sustainable packaging with a new hanging style recyclable card designed for durability in store and to allow product quality and features to be seen and easily tried on in store without compromising the product packaging.
The launch will be supported by a strategy designed to drive awareness on the importance of buckling our canine friends in the car. The team have also created a strong range of branded assets, thought leadership content, an informative website experience as well as strategic partnerships to reach as many consumers as possible, drive awareness and demand from the summer months onwards.
The Crash Tested Harness
For dog owners looking for extra peace of mind. Certified up to 32kgs / 70lbs, it directly links to the car seat belt system with no extra connection clip required. The high tech fully reflective fabric features a breathable layer on the chest panel for comfort, stability, and walking safety. Two years in development, this innovative new harness is specially engineered for easy fitting and conversion into a comfortable walking harness for the perfect day trip!
The Dog Travel Harness
For dog owners that want to travel safely together and within the law. With a padded chest piece for stability and comfort, this car safety harness doubles up as a handy walking harness on arrival!
"Unsecured dogs in cars" is a global issue:
UK: 69% dog owners not aware of law
USA: 84% of drivers do not secure their dog in car
Germany: Up to 52% of drivers do not secure their dog in car
Netherlands: 51% of drivers had an emergency due to their dog
Australia: 5000 dogs a year injured by leaping from vehicles
"The delight of dog ownership is to take them with you on all your adventures and enjoy that ever-faithful presence by your side and while we all remember to strap our children in when we take a car journey, the same cannot be said for all our pets. We decided to create a product that would allow you to go straight from the car to your walk without any fuss AND keep your dog secure. Many do not realise that, in most countries, it's the law to have your dog safely secured in the car and so we're here to offer peace of mind. Afterall, we love our dogs!"
- Dr Roger Mugford
For over 40 years the Company of Animals has been dedicated to giving dogs the best possible quality of life, so that they and their owners can enjoy life together to the full!