Contemporary Dog Bedding Collection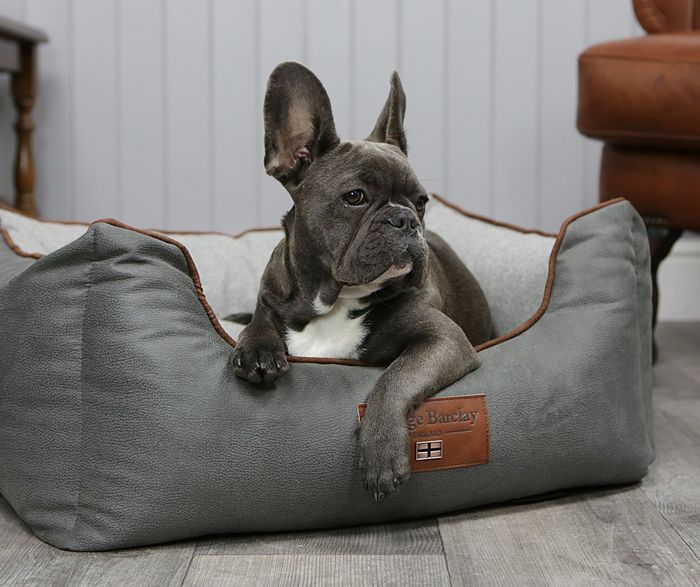 The Contemporary Collection is produced using the finest quality upholstery fabrics. A soft woven fabric topper or sleep area, paired with a faux leather outer sidewall, provides each bed with contrasting textures, while being functional and hard wearing. Each bed is finished with faux suede piping, with an embossed faux leather centre patch, which includes an English flag emblem, to complete the beds signature styling.
There are three popular styles of dog bed available within the collection, in a broad range of sizes, meaning there are ten different variations of colour/style to choose from:
Mattress Bed – sizes: Medium, Large X-Large & XX-Large
Box Bed or Soft Walled Bed – sizes: Small, Medium, Large X-Large
Sofa Bed – sizes: Medium & Large
Each of these variants is available in a multitude of different colour combinations. Our Contemporary Collection currently consists of more than 200 variations. Each model is produced as a limited series, with new colours being released each season.
The beds cushioning is protected with a Moisture ShieldTM inner liner, preventing the ingress of water and unwanted smells. Furthermore, Customers are able to select the cushioning for their bed, using orthopaedic memory foam or an encapsulated pocket sprung mattress, the ultimate indulgence for their faithful companion.
With more than 20 years of experience, the team at George Barclay are well versed in pet bedding design and manufacture. All our dog beds are fitted with a removable cover, for ease of washing. Replacement covers are available separately, allowing customers to have a spare, or change the colour/style of their existing George Barclay bed, to match their interior décor.
George Barclay pet products are an affordable investment towards your pet's good health and happiness. To find out more about our comprehensive product collection, please visit: www.georgebarclay.com