curli – The Harness Specialists from Switzerland – bring leading innovations to the pet industry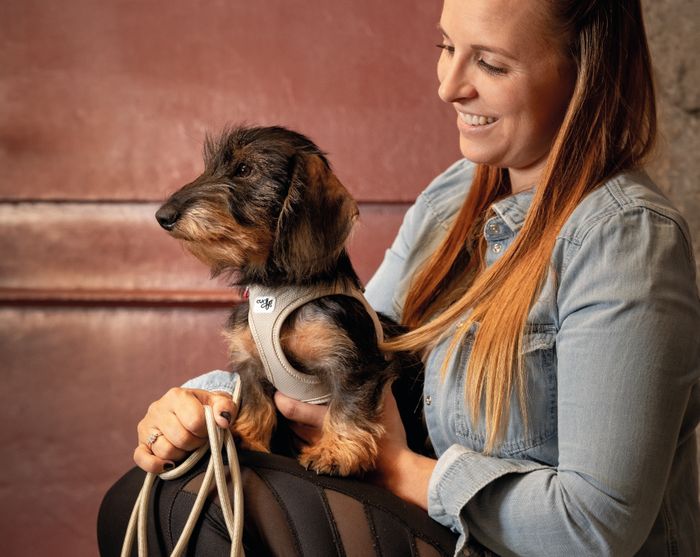 For a perfect connection between you and your dog
Since 2010, curli – the harness specialists from Switzerland – are introducing innovative high-quality, high-performance dog harnesses to the pet industry.
Founded by Mark Zimmermann and Roland Primus, both passionate mountain guides and outdoor experts who know the value of professional equipment and reliable safety, curli transfers this approach successfully to harnesses for small and large dogs: starting with the choice of materials, perfect ergonomics, particularly light weight, maximum freedom of movement up to optimum safety and functionality.
"curli as a brand has its origins in professional mountain sports. For us, high performance, functionality and best ergonomics are essential to our designs," explains Roland Primus, curli CEO and himself an sports enthusiast. "Anyone who has ever been outside exploring nature and mountains knows about the value of reliable equipment and how important it is to be able to trust each other as a team. That's what curli brings to the pet industry: precision and performance that enable a perfect connection between owner and its dog. This is a promise we make with each of our products. We develop with foresight and think about all aspects of a design down to the smallest detail."
All curli products from harnesses for small dogs to harnesses for large dogs and curli leashes meet particularly high quality standards in terms of ergonomics, function, safety and performance.
Only very lightweight materials are used, so that the sensitive, horizontally lying spine of the dogs is protected. The harness specialists at curli know that the weight of a harness should not exceed 2% of the dog's weight, and curli harnesses are way below this mark. The harnesses of the Belka series, which is specially adapted to the needs of larger dogs, also have a built-in back protection, so that the carabiner of the leash can not hurt the dog.
An intelligent arrangement of pulling and guiding loops for attaching the leash and crossed sewn-in straps on the small harnesses ensure best tension distribution and optimized communication between dog and owner.
The 3D Comfort-Fit of the vest harnesses and the anatomically shaped Belka harnesses ensure an optimal fit, maximum freedom of movement and reliable safety at the same time. 5 to 7 sizes per harness type - between 3XS and XL - allow owners to easily find a well-fitting, reliable harness for their dog.
A wide variety of innovative materials offering different special functions are convincing: extra-light, breathable Air Mesh, which has a refreshing cooling effect when immersed in water in summer, or a harness made of merino wool, which naturally regulates temperatures, warms in winter and cools in warm temperatures.
The New Apple Leather curli Clasp Vest Harness made of highly innovative, plant-based Apple Leather ads a new sustainable Premium Collection to the design range of the curli Clasp Series.
The patented CLICK.SNAP.GO curli Clasp closure of the curli Clasp series is a special highlight in the list of curli innovations. It allows particularly easy closing of the harness and stress-free leashing with just one hand, so that walks become a pleasant daily routine.
The curli Clasp Vest Harness was awarded with the Pet Award 2021/22.
The Apple Leather curli Clasp Vest Harness was awarded with the Pet Award 2022/23.
The curli Dogfinder is attached to every curli Harness. The curli Dogfinder allows owners to register their dogs in a central database, so that in case the dog gets lost, it can quickly be found and taken back to its owner.
curlis latest innovation is a high-performance, high-quality Vest Harness made of sustainable, plant-based apple leather, that sets a special focus on sustainability and animal-friendliness.
As you can see, there are many interesting things to report - the best way to see for yourself is to visit curli at the Telford Pet Exhibition.