Doo-Kee - The Story So Far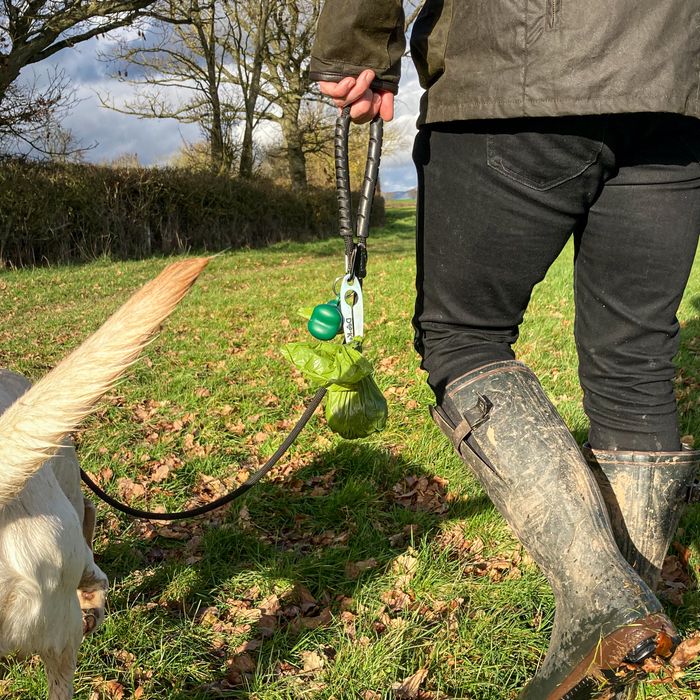 Who are we
Doo-Kee is a start-up based in Somerset, composed of a father-son team (Martin & Jon), aiming to make dog walks more enjoyable and to prevent walking routes from getting littered with used poo bags.
How did the idea come about
They have two beautiful dogs, Rupert the labrador and Charlie the cocker spaniel. Both always poop multiple times on walks, and carrying full poo bags is just a necessity any dog owner will recognise! By the end of one walk, in particular, Jon had 5 full poop bags tucked under his belt for several miles with no bins in sight. He started to think of a better way to carry them rather than by hand, in a pocket or tucked under a belt - by instead creating something to carry them from the knot.
After Jon drew the rough shape he had in mind on paper, Martin produced the design in CAD and together they developed the shape into the final design.
They made their prototype Doo-Kee on a small 3D printer and tested it to see how many bags it could carry (over 12!). They kept testing it out on more walks and found they enjoyed their walks more, meaning they often ended up walking for longer.
Why did we move ahead with it?
After researching the market and finding there are 9 million dogs in the UK alone, they got the registered design for the use and design of Doo-Kee and created the website. With a small amount of Facebook, Google and Instagram advertising the customer base and awareness grew rapidly. They celebrated milestones on Instagram with giveaways and found partners (both influencers and great wholesalers) to help broaden the awareness of the brand. Every Doo-Kee is still made and hand-finished by Jon and Martin in Somerset, and they aim to keep everything local as they expand.
The future
The main aim for Doo-Kee is to get one on every lead and with every dog in the UK and then the world! Alongside this, they aim to diversify and develop new products and ideas to make walks with your best friend even more enjoyable.
We've sold over 13.5 thousand Doo-Kee to over 6.5 thousand customers in the 7 months since we launched. Now we are looking to scale with like-minded retailers that think Doo-Kee will fit well with their dog-loving customers. Doo-Kee... It's as simple as knot it & slot it.