Dorwest launches all-new 100% natural pet shampoo bars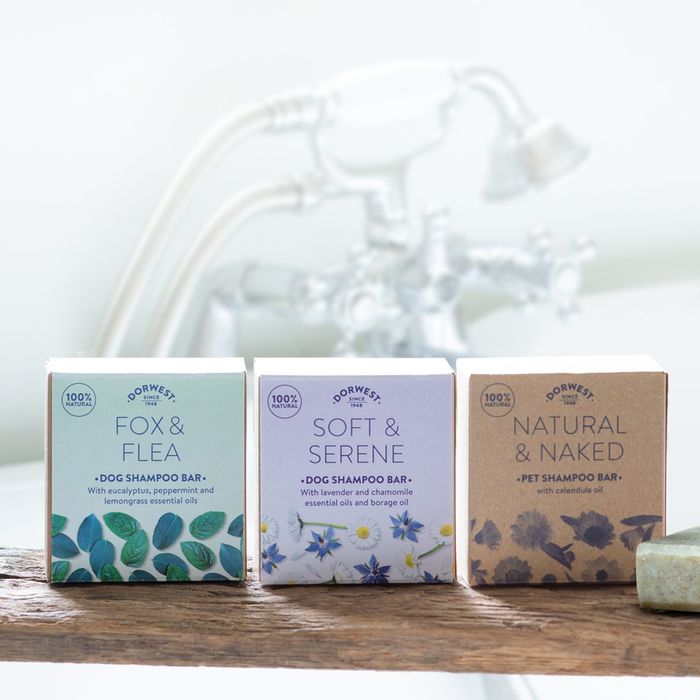 Award-winning herbal pet care experts at Dorwest Herbs have launched new pet shampoo bars using 100% natural ingredients, the perfect partners for bath time.
The all-new nourishing shampoo bar range supports optimal skin and coat health, with a base blend of coconut oil, shea butter, sunflower oil, castor oil and sweet almond oil. The formula is easy rinse with no residue left behind, and creates a creamy lather to help effortlessly clean the coat and lift dirt. They are also suitable for all coat types - so whether your four-legged friend is long, short, wire or smooth coated, they can be pampered by nature.
Dorwest's new shampoo bars are:
helpful to stimulate circulation, supporting healthy skin and coat during massage.
better for the environment, as completely plastic free with 100% recyclable packaging.
ideal for travel, small and easy to pack with no risk of leaks.
long-lasting, as can provide more washes than a bottle of liquid shampoo.
free from artificial colours and fragrances, parabens, SLS, silicone, mineral oil, petroleum and PEGs.
Handmade and manufactured in small batches in the UK
The range includes:
Fox & Flea Dog Shampoo Bar - keeping four-legged friends clean with a luscious fresh and minty scent. Nettle, and eucalyptus, peppermint and lemongrass essential oils help deep clean and counteract unpleasant odours - even the fox poo rollers! These oils are also known to help deter unwanted biting insects such as fleas and ticks. £9.50 RRP.
Soft & Serene Shampoo Bar - specially formulated for dogs prone to itchy, irritated and sensitive skin, with a subtle floral scent. With borage oil, chamomile and lavender essential oils, alongside a base blend of shea butter and coconut, sunflower, castor and sweet almond oils, these highly soothing natural ingredients support optimal skin health. £9.50 RRP.
Natural & Naked Shampoo Bar – with a stripped-back and simple formula and no essential oils, ideal for even the most sensitive skin. With subtle aromatic, earthy notes, this bar is perfect for any pet, including those who may be prone to allergies. With calendula oil, and a base of shea butter and coconut, sunflower, castor and sweet almond oils, it is highly moisturising and nourishing for flake-free, healthy skin. £9.50 RRP.
Managing Director Jo Boughton-White says, "We're delighted to launch our new shampoo bars to add to our existing Topicals range. The bars are easy to use, smell incredible and are naturally conditioning and moisturising. This combination helps reduce the need for a separate conditioner, and ensures that you're washing your dog with nothing but natural goodness."
View the new range now at www.dorwest.com/category/topicals
To find out more about Dorwest call one of our friendly, expert customers services team on 01308 897272, email info@dorwest.com or visit www.dorwest.com