16 Jul 2019
Firm favourite – Jasper counting down the days 'til Christmas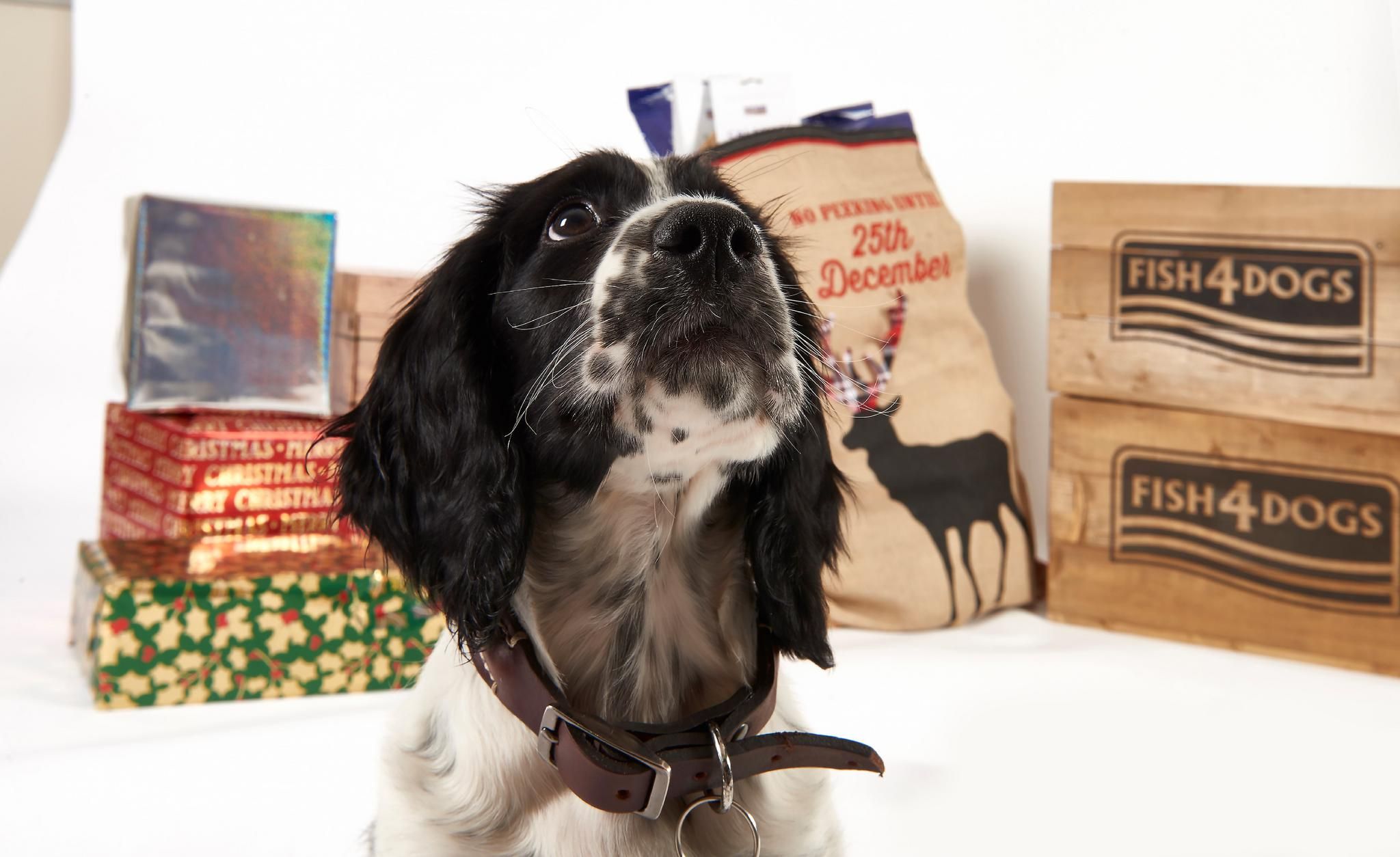 Office dog Jasper is counting down the days to Christmas – as the furry face of the Fish4Dogs advent calendar.
The one-year-old sprocker (cocker x springer) spaniel gained the honour after topping a social media poll which asked followers to vote for their favourite.
The seasonal shot sees Jasper, owned by Customer Services Advisor Jill Aston, in front of a festive backdrop.
"Jasper has been coming into the office since he was a pup so there was always a good chance he'd worm his way into the marketing material somehow," she said.
Jasper was pipped against three of his canine colleagues in the poll.
Added Jill: "It took plenty of sharing but being the beautiful boy that he is, Jasper was crowned champion of the advent calendar. The fame and glory don't seem to have gone to his head yet but there is still time!"
Beautifully designed and individually film wrapped for freshness. The calendars have an RRP £7.50 per unit. They are available to order now.
They contain:
Squid Bites – soft and chewy discs made from oven baked squid that are incredibly tasty
Mackerel Morsels for coat, skin and joints – rich in Omega 3 these salmon and mackerel fish-shaped treats are easily digestible and support healthy, shiny coats and supple joints.
Sea Jerky Squares – made from 100 per cent fish skins, these natural, low calorie crunchy treats help clean teeth and control tartar.
Also being produced for the festive period, is the Fish4Dogs Christmas Cracker which features Jasper alongside canine colleagues Zac, Rodney and Henry. The cracker is an attractive and affordable gift styled on the popular tradition of a cracker which is pulled apart to reveal a gift (but without the bang to avoid upsetting our four-legged friends).
Inside the cracker is a 75g bag of Fish4Dogs Mackerel Morsels. The crackers have an RRP of £3.00 and are available now for trade orders.
For more information about Fish4Dogs festive products or to apply for an account visit: www.fish4dogstrade.co.uk
Ends
For further details please contact:
Alison Gallagher-Hughes
Head of PR and Communications
Sweet, Langton and Moat House, Bird Street, Lichfield, Staffordshire, WS13 6PY, UK
t: 01543 250505 f: 01543 255522 m: 07890 609933 e: alison.gh@Sweet.marketing
Notes to editors:
Fish4Dogs is an innovative, specialist supplier of premium fish-based pet food established in 2004 and based in Rushock, Worcestershire. Employing 60 people, it supplies UK pet owners and pet shops and exports to 36 countries worldwide.
Principle brands are Fish4Dogs and Fish4Cats and it has subsidiaries in Norway and Benelux.
All fish used in its products are from sustainable sources including Norwegian Salmon and North Atlantic white fish. All manufacturing facilities outside of the UK adhere to FEDIAF Codes of Practice.
Additionally, its UK sites are BRC (British Retail Consortium) and ISO accredited. Fish4Dogs was awarded the Queen's Award for Enterprise for International Trade in April 2017