Fish4Pets Launches a Lighter Choice for Dogs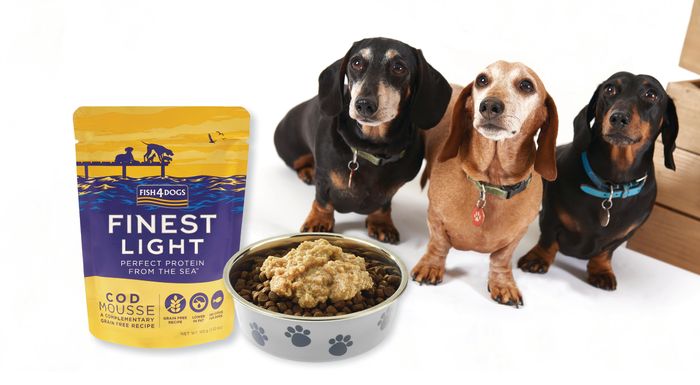 The product has been introduced to the brands' existing Finest mousse range and has 60% fewer calories than the salmon and trout flavours.
'We are all very excited about this launch' says Jo Mulgrew, Marketing Director at Fish4Pets®. 'Many dog owners love the convenience and completeness of dry food, but still want to add something to make it more interesting for their pet. However, anything added also adds calories, so our 'Light' option is the perfect solution. It's made from 99% cod, has more moisture content than the salmon and trout varieties, and its lighter recipe has substantially lower calories per pouch than the other flavours.
Karen Hubbard, Product Portfolio Manager at Fish4Pets™ adds 'this product comes as a direct response to changes in our lifestyles since the pandemic. Many dog owners and their families have spent more time with their pets since the start of the pandemic and some are feeding and treating them more frequently as a result, dramatically increasing calorie intake. By introducing a lower calorie option, it can provide a solution for those dog owners looking to readdress their dogs diet, and they can be assured it's just as tasty!'
The Finest Cod Mousse Light product is the third in an extensive programme of new product introductions for the Fish4Dogs® brand this year. The brand introduced a senior variant to its Finest Dry Complete range in January and a range of new puppy treats in May. The company has plans for more exciting new food and treats launches later in the year.
For more details on Fish4Dogs® Finest Cod Mousse Light product, please contact your representative or call Fish4Pets® on +44 (1299) 252 352.