Fish4Dogs Sea Jerky Triumphs Again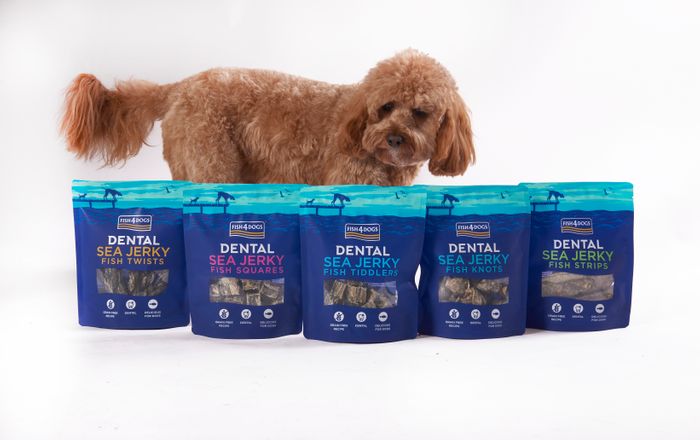 Fish4Dogs® Sea Jerky is a highly palatable, white fish skin treat, naturally abrasive in texture which can help with tartar on teeth. Available in six different shapes there is a size and shape to suit dogs of all ages and breeds. It is made from 100 per cent dried white fish skin with nothing added, and therefore it is naturally lower in calories than many other treats.
Not only did the delicious, natural Sea Jerky treat scoop an award, Fish4Dogs® Salmon Oil was also highly commended for Best Health Product 2021 for the third consecutive year.
Fish4Dogs® Salmon Oil from the Support+ range is a highly palatable complementary supplement made from our finest Norwegian salmon. It provides high levels of omega 3 which aids health in many ways including supporting skin and coat condition and aiding joint mobility. It can be used as a supplement on its own, drizzled over food or mixed in.
The Your Dog Product Awards 'celebrate all those must-have doggy products that enhance our lives, and those of our pets'.
Jo Mulgrew, Marketing Director at Fish4Pets®, home of the Fish4Dogs® brand says 'we are delighted to receive these Your Dog Awards 2021 and we are hugely proud of our natural, healthy products. As a company we have always championed fish as the 'perfect protein' for dogs and strive for high quality, natural and healthy ingredients. Fish4Dogs® Sea Jerky and Fish4Dogs® Salmon Oil are leading products for our brand and are at the heart of everything we stand for. It's great that dog lovers recognise that too.'
Winners of all awards were released in the January edition of the magazine which went on sale on the 6th December.
For more details on Fish4Pets® products, or to become a stockist. please contact your representative or call Fish4Pets® on +44 (1299) 252 352.