Forthglade Teams up with National Trust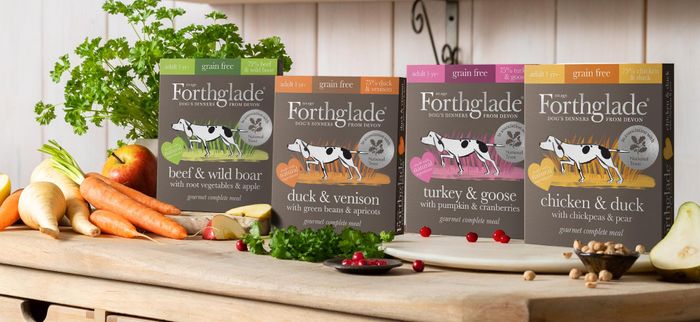 A range of all-natural, nutritionally balanced Gourmet dinners has launched with a selection of grain-free complete wet meals, all with high-quality ingredients, a 75% meat content and free from any nasties. A tasty range of Soft Bites natural treats for dogs also launches at the start of 2020. Sales of the dog food range and treats will contribute at least £50,000 per annum to support the Trust's conservation work.
The special Gourmet range includes recipes such as duck & venison with green beans and apricots or turkey & goose with pumpkin and cranberries. As well as the hand-baked grain free Soft Bites treats, a natural cold-pressed dry dog food range will also be launched next year. The range will be available to buy directly from many National Trust shops, national trust.org.uk/shop, forthglade.com, Waitrose and leading independent pet retailers.
Over the next three years the project will put developments in place so that dog owners can enjoy a great day out with their four-legged friends, whilst helping to protect the special places that the National Trust care for. And for those that aren't doggy fans, it will ensure there are consistent expectations of dog owners and highlight the dog-free places available to enjoy.
ALL-NATURAL WET DOG FOOD:
Chicken & Duck with Chickpeas and Pear Gourmet Complete Meal, RRP £1.99 per 395g tray. As excellent sources of protein, chicken and duck are combined with fibre and antioxidant rich chickpeas and pear, for a nourishing, grain-free meal. Botanicals are added to help aid the body's defences.

Turkey & Goose with Pumpkin and Cranberries Gourmet Complete Meal, RRP £1.99 per 395g tray. Packed with 75% meat and teamed with pumpkin and cranberries, the meal is gently steamed to retain the natural goodness of the ingredients, and includes a selection of herbs - chamomile, parsley, rosemary and nettle.

Duck & Venison with Green Beans and Apricot Gourmet Complete Meal, RRP £1.99 per 395g tray. This dish is easy for your dog to digest and packed full of protein, vitamins, minerals and antioxidants to support their health and immunity.

Beef & Wild Boar with Root Vegetable and Apple Gourmet Complete Meal, RRP £1.99 per 395g tray. Protein rich beef and boar are combined with naturally occurring omega-3 fatty acids, which support the immune system promote healthy skin and a glossy coat.

A Gourmet Festive Feast: Forthglade have also produced a very special canine Christmas dinner with the National Trust, packed with delicious turkey and goose, guaranteed to set tails wagging over Christmas. RRP £1.99 395g tray.

Gourmet Variety Case (Turkey & Goose and Duck & Venison), RRP £11.25 for x 6 395g trays. A great way to enjoy a selection of the meals conveniently in one pack. The case contains three trays of each of the two grain-free, complete meal recipes.