Goodchap's: New Products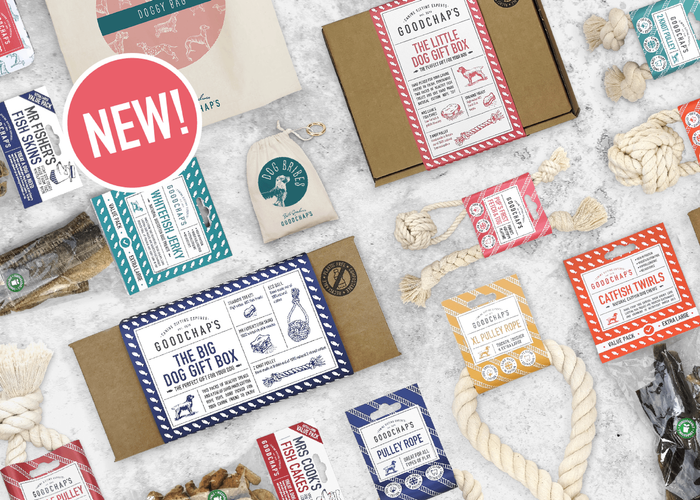 This year, eco-friendly dog brand Goodchap's have released some exciting new products for both humans and hounds. They have released a new range of natural hand made rope toys, as well as some new and improved doggy gift-boxes, along with more gifting items for dog lovers! Here are their top 3 new products.
---
1. Doggy Bag
This year, Goodchap's released their new range of Canine gifting items including gift boxes and the Doggy Bag. Brimming with all of their best-selling treats, it's been a top-seller this year, especially this festive season. Inside the recyclable paper bag, you will find seven compostable pouches, consisting of:
3 different chews - Whitefish Jerky, Fish Fingers and Catfish Twirls
And bite-size treats - Training Treats, Lil Scamps Fish Bites, Mrs Cooks Fish Cakes and Mr Fisher's Fish Skins.
For more info please go to www.goodchaps.co.uk/product/doggy-bag/
---
2. Training Treats Tin
A great product for both humans and hounds! This handy refillable tin has been designed from start to finish by the Goodchap's team.
It's perfect proportions means it'll fit in most pockets, so your dog's treats are always within easy reach. The outer of the tin is finished with original artwork by Beth Goodwin.
Inside you can find a pouch of Goodchap's best-selling training teats. Made from 80% steam-cooked fish, there are no nasties, which makes them a perfect option for training your dog or puppy. Large refill pouches can be purchased too.
For more info please go to www.goodchaps.co.uk/product/treat-tin/
---
3. Pup's First Fetch & Tug
Goodchap's new range of cotton rope toys is a perfect addition to any toy collection. They are hand made at Goodchap's HQ in Somerset from 100% unbleached, three strand cotton.
Pup's First Fetch & Tug is a duo of two different toys, perfect for all kinds of play with your puppy. The soft rope also promotes good teeth and gum health, whilst being gently on your puppy's mouth.
All materials from the rope to the packaging are fully recyclable.
For more info please go to www.goodchaps.co.uk/product/pups-first-fetch-tug/