THE HEALTHY WAY TO TREAT, TRAIN AND REWARD – WILSONS PREMIUM DOG TREATS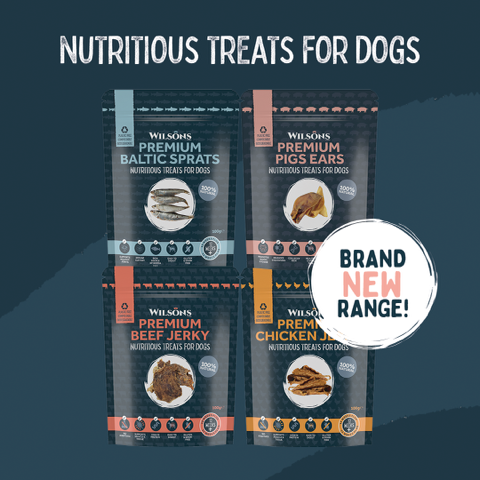 Wilsons, the fast-growing Scottish pet food company, has further extended its product range with the launch of four brand new nutritious treats for dogs.
The range offers four different products, Baltic Sprats 100g, Beef Jerky 100g, Chicken Jerky 100g and Pigs Ears available in pouches of 2 pieces. Over recent years, the consumer demand for high quality, healthy dog food has impacted the evolution of the pet food industry significantly and has seen the increase in dehydrated pet treats.
Just like their range of cold pressed and raw food, Wilsons Premium treats provide the very best for dogs. Selected for their wholesome, natural ingredients, the range of tempting treats boast health benefits and support overall wellbeing. The premium treats offer a range of benefits to dogs ranging from quality protein to support muscle and tissue repair, a rich source of omega 3 and 6 and immune support. The range is 100% natural and contains zero additives or preservatives.
As part of the company's 'planet positive' approach, the pouch is made from a biobased, renewable and biodegradable material which is made from starch purposed from renewable plant resources. It is 100% plastic free, biodegradable, and compostable.
Wilsons new natural treats range follows the recent launch of their Scottish salmon oilto compliment the company's extensive portfolio of cold pressed and raw frozen dog food.
Find Wilsons Premium Treats online and in your local pet store. www.wilsonspetfood.co.uk