Hugely successful PATS Telford is a hit with visitors and exhibitors alike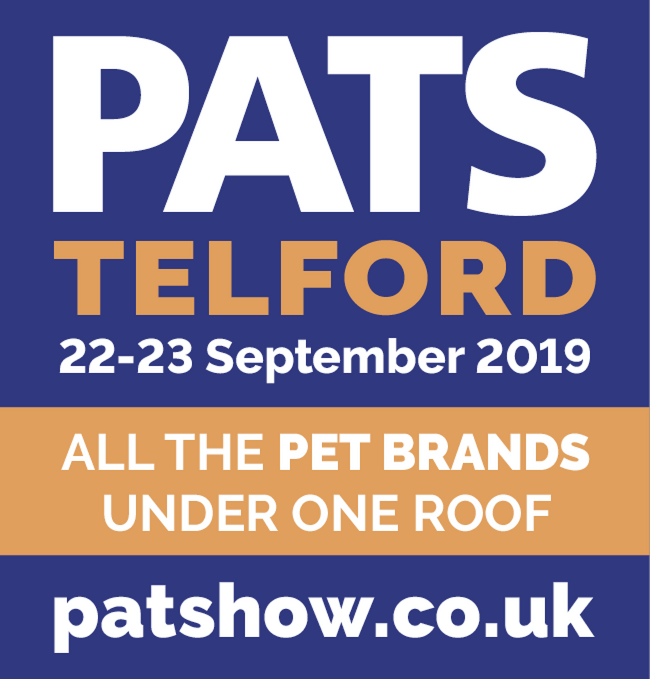 PATS has proved itself once again to be the top trade show for the UK pet industry with yet another successful two-day exhibition.
Visitors and exhibitors alike were delighted by the busy and friendly atmosphere, the huge variety of products and innovations on offer and the smooth running of the exhibition space.
With more than 200 companies showing their vast ranges, and 66 new exhibitors, there was something for everyone whatever their area of interest.
John James of James and Steel summed up the mood of the show when he said: "I have been coming to PATS for more years than I care to remember, and I honestly think that this is the best one yet.
"It's been a really, really good show; a great atmosphere, the opportunity to speak to existing and some new customers, and everybody was here to do business. Plus, we won two awards - what more could you ask for?"
Martyn Barklett-Judge of Pet Remedy said: "This has been a great show for us. We've been able to meet up with lots of our regular customers and we've also made quite a number of new connections too.
"What we had on the Sunday were more and more pet professionals – such as dog groomers and doggy day care centres - which is good for our market and another new area for us to expand into."
This year's PATS Telford had a particular emphasis on sustainability, including the launch of a Green New Product Award as a new category in the New Product Showcase. This award was judged by Dobbies' Head of Pet Sean Kelly and went to Project Blu, which makes pet beds from ocean-bound plastics.
Project Blu founder and CEO Geryn Evans said: "It was great to win the Green New Product Award. Anyone can have a good idea, but when others recognise it, you think maybe you have got it right. So, for someone like Sean Kelly, who is so well respected in the industry, to back us by supporting us for this award means a great deal.
"And the Telford Show itself is great. There's good footfall, but what's nice for me in particular is the number of people who are concerned about sustainability and the provenance of the product. When people come to talk to us it is sustainability that's the key to our conversations."
PATS' chosen charity Dogs For Good also benefitted from the show with a £500 cheque presented by organiser Gordon Thomas as part of the Sunday evening PetQuip Awards. PATS' sponsored dog Winter was also able to visit the show on the final day.
Gordon said: "It was a delight to see our PATS puppy Winter at the show. She will soon be going on to her full training and we look forward to hearing all about her progress and supporting this excellent charity."
The mood of visitors to the show was summed up by Lauren Moretto, of Boscos Pet Pantry, South Wales, who said: "This is my first visit to PATS and I'm really impressed with the wide variety of products being exhibited. We concentrate on selling natural and ethically-based products, so it's good to see an exhibition embracing this side of the business. I also love the fact the show is so bright, colourful and welcoming."
And Michelle Woolrich, a chiropractor who runs the Animal Therapy Hub in Nantwich, Cheshire, said: "There so much to see at PATS, visitors are spoiled for choice. I've really enjoyed my visit and it has been highly profitable in terms of sourcing new products."
To sum up the event Gordon Thomas added: "This is such a great industry to work in with so many positive people and innovative products. We've been particularly excited to see all the sustainable initiatives this year, and to be able to play our part.
"From the feedback we've had at the show, we can only say that PATS and the pet trade industry together have a great future ahead of them. We would like to thank everyone who joined us in 2019 and look forward to working with them again in 2020."
Photographs from the show are now available to download
1. Visit www.sirastudio.com
2. Click on Galleries
3. Click on the Conference and Exhibitions folder
4. Click on the PATS Telford 2019 folder
5. On the password screen enter: pats19telford
For more information contact Neil Pope or Justine Thompson at press@impact-exhibitions.com or on 07595 442601.