IF YOU CAN'T EAT IT – DON'T FEED IT GUILT-FREE DOG TREATS PROVIDER MAKES ITS PATS DEBUT (Pawfect Foods)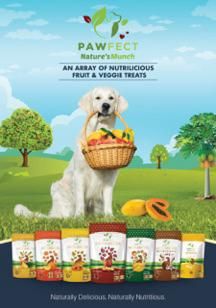 This Autumn (PATS Telford) sees all-natural treats pioneer Pawfect Foods make its home market debut after an 'above all expectations' soft launch in Europe. Although the championing of a wholesome, guilt-free dog agenda has been gathering momentum over the last few years thanks to the hard work of numerous pioneering pet treat providers, it's the sheer depth of the Pawfect Foods offer that brings a significant momentum shift to an overall Dogs Treat sector (£560m) of which all-natural, gourmet leaning snacks represent 30%
Pawfect Food's 1st Stage Portfolio Includes: Himalayan Cheese Chews & Snacks, Nature's Munch, Doggy's Cuppa & Dr Veneta's Pawfect KItchen
The very essence of Pawfect Pet Foods is a dogged determination to reject tired, old-fangled thinking that suggests dogs are single-track carnivores; adopting instead a more progressive, 'flexitarian outlook which advocates that the addition of first-class, human-grade fruit, veg, herbs and avant-garde dairy products to a dog's daily diet could foster countless 'positive health' connotations.
Too many dogs are celebrated as furry, four-legged waste disposal units, which has unwittingly led to a lost generation of clinically obese hounds with patchy, sub-standard health.
Prash, founder of Pawfect Foods believes that great taste and reinforcing 'healthy convictions aren't irreconcilable ambitions, so there's justification whatsoever for any dog treats to be littered with cheap 'filler' grains, inappropriate masking salts and sugars or 'synthetic nasties' (flavourings, scents & colours).
According to Pawfect Foods founder Prash (& ex senior marketer for human-orientated brands) 'it's clear to me that the recent revolution in more health conscious human food can't come soon enough to the pet treats arena. Whilst a new blossoming breed of caring/avant-garde pet food brands have made significant, healthful strides over the last few years (BARF, HPP, Grain-free, Bug-protein, Ailment Specific…..) over the same life-span, like-minded/health conscious dog treats have remained worryingly thin on the ground.'
The flagship product within Pawfect's initial, 4-strong portfolio is their celebrated yak cheese chew bars. The early clamour for a dairy-themed treat crafted by seasoned churpi cheese buffs has been nothing short of phenomenal. Made at high altitude in the Himalayan region in conjunction with grizzled yak herders these tangy tasting treats (packed with protein, calcium and helpful omega3 oils) provide a truly substantial hit of daily 'healthful' goodness.
Add in Nature's Munch (an eclectic gathering of diligently dried raw fruit, veg and nuts) some Doggy's Cuppa Herbal Infusions and a select family of Dr Veneta's Pawfect Kitchen Mixes ('vegetarian base mixes' to accompany the growing popularity of 'raw' meat diets) and you have a plant-based feast for every imaginable breed and meal occasion.
'Our business vision is 'innovation driven,' concludes Prash. 'Our remit is fantastical flavours, enviable ingredient provenance and nutritional vibrancy and if that means operating complex supply chains, adverse weather conditions beachcombing the shoreline, haggling with weather-beaten yak and camel herders or unearthing untapped fruit and veg allotments, then so be it!'
www. Pawfectfoods.co.uk
Editor's Notes
So far Pawfect Foods has made its presence felt in Belgium, Luxembourg, Spain & Poland with further distribution agreements (Italy, Germany, France, Denmark & Portugal at an advanced stage.
Nature's Munch uses nutrition-safeguarding freeze-drying know-how – and provides customised propositions for different markets to mirror their specific fruit & veg leanings.
Doggy's Cuppa – the one outside company acquisition within Pawfect Food's 4-strong portfolio is enjoying especially strong take-up in Greece and Holland