Innocent launches British Air-Dried Complete Food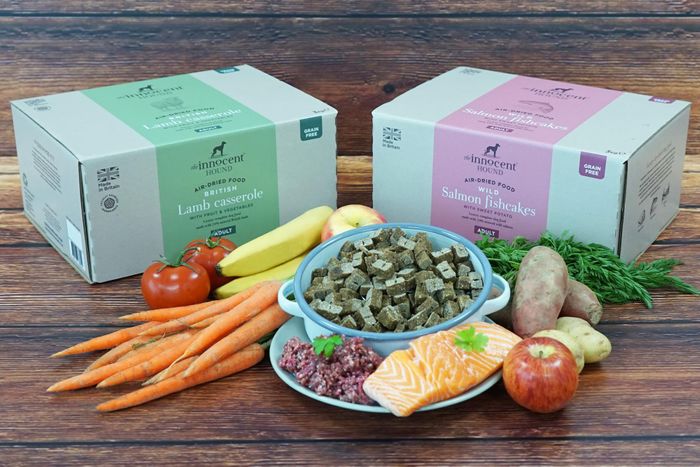 The Innocent Pet Care Company's new air-dried food offers an innovative addition to the complete dog food market. Forming a new category of food (it isn't a kibble, wet or frozen), the air-dried food is made in Yorkshire with 70% British lamb or wild salmon.
Founder Chloe Heaton said "Customers love the quality of our treats and have been asking us to make a complete food for years. Whilst keeping our small company's big values at the forefront of development, we have worked with leading nutritionists to create a unique and exceptional complete meal."
The air-dried dog food is made using ethically sourced, quality British ingredients combined with the company's bespoke, gentle drying expertise. The result is a semi-moist, great tasting, healthy and nutritious feast.
The handmade production method means with minimum processing and no high temperatures, the nutrients and flavours of the ingredients are maintained. The food can be stored in an ambient environment, and once opened the pack lasts for up to 4 months making it very convenient. As it has not been cooked, it is proving to be a popular choice for those tempted by raw feeding but who need a more convenient solution.
Chloe added, "Our food not only offers total convenience as an everyday food, but it is ideal for raw feeders to have on standby for those days when they've forgotten to take meat out of the freezer, or they're going away for a holiday."
Committed to reducing their environmental impact, the packaging for the food is 100% recyclable. It is available in 3kg packs and comes in 2 flavours (Lamb Casserole and Wild Salmon Fishcakes), with an RRP of £40.
To find out more about The Innocent Range, or for details on how to become a stockist, please contact woof@theinnocenthound.co.uk