KittyRade wins the Cat Food Functional Diet Product of the Year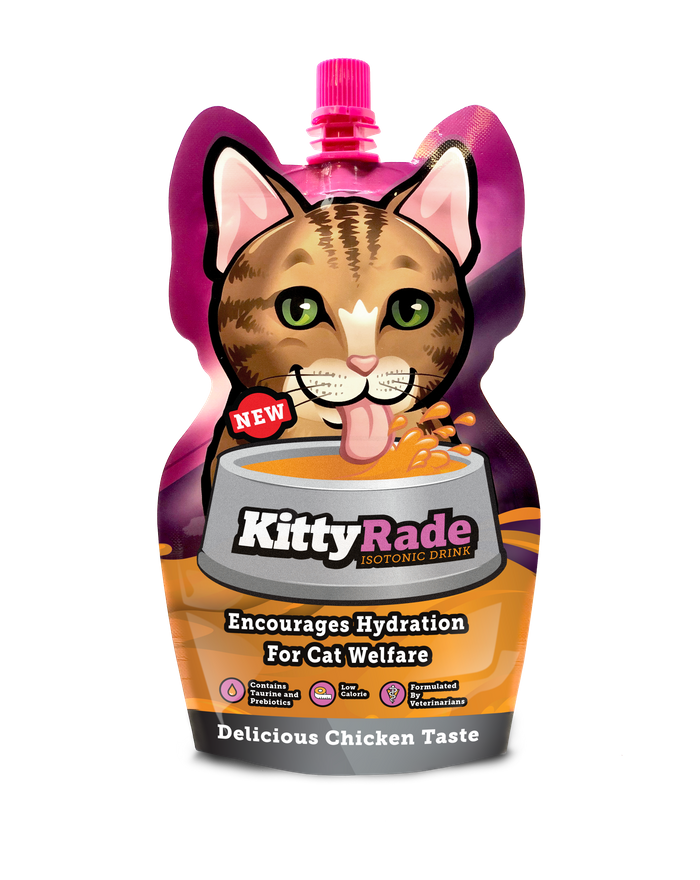 Tonisity is delighted to announce that their isotonic drink for cats has won the Cat Food Functional Diet Product of the Year at the 3rd annual Pet Innovation awards. With over 1,250 nominations across all categories coming from the best and brightest pet companies all over the world, the competition was extremely fierce, and Tonisity is delighted to pick up this award.
Cats are notoriously fussy drinkers. KittyRade is an isotonic drink with an unique chicken taste and smell, which encourages cats to drink. In taste test trials, cats drank three times more KittyRade than water! KittyRade encourages reliable hydration and helps addressing the well know issues related to low fluid intake (one in three cats experience some form of kidney disease).
KittyRade contains prebiotics which help support gut health, improve digestion and nutrient absorption. It also contains glutamic acid, an amino acid that is beneficial for intestinal function, and taurine, an essential amino acid, which promotes eye and heart health. KittyRade is also low in calories and fat, gluten and grain free, hypoallergenic and specifically designed by veterinarians.
Besides KittyRade, Tonisity also proposes DoggyRade, an isotonic drink for dogs, and YummyRade, a meal enhancer to improve the taste and palatability of dog or cat food. Many gravy toppers are high in calories and fat based, but YummyRade is extremely low in calories and fat. You can use it to make your pet's food tastier, without worrying about weight gain or creating digestive issues.
"We are very pleased to see such a recognition from the pet food industry for this innovative range which was launched just last year. This confirms the excellent feedback we get from pet owners and is also a great reward for all the efforts and the science behind our products" said Mathieu Cortyl, Managing Director at Tonisity.
KittyRade, DoggyRade and YummyRade are available in stores across Europe and can be found online on many sites including Amazon. To find your nearest store location stocking KittyRade, visit doggyrade.com/pages/where-to-find-us.