Laughing Dog Launches Limited Ingredient Recipe Completes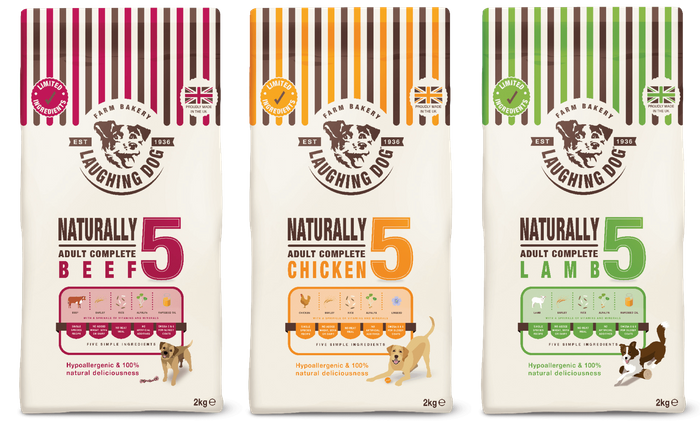 Making all of its own completes, treats and mixers on its family farm deep in the Lincolnshire countryside for three generations, all ingredients included in Laughong Dog's recipes are naturally wholesome and simple, with many coming from the family's own farm.
A new addition to the Laughing Dog range, Laughing Dog Naturally 5, a hypoallergenic and naturally simple complete made with five nourishing and tasty ingredients. Laughing Dog Naturally 5 will be in launched as a shaped kibble available in three flavours: Chicken, Lamb and Beef. Bag sizes will be 2kg and 12kg, and bags will be 100% recyclable.
Made on their family farm in Britain with naturally sourced ingredients including their farm-grown barley, the limited ingredient and single species recipes have been carefully formulated to have no meat meal and no added wheat, soya, dairy or sugar and no added artificial colours, flavours or preservatives. With Omega 3 and 6 for healthy skin and glossy coats and antioxidants to support health and immunity. Complete and balanced recipes for healthy digestion, immunity, joints, teeth and bones.
Rachel Grant, sales representative for Laughing Dog and member of the third generation of the family, said: 'The development of Laughing Dog 5 is really exciting; we understand that pet parents want naturally healthy food for their dogs – food they can trust, a clean label that can be understood and a price point that is accessible; and Laughing Dog 5 successfully delivers this. These new recipes have been specifically designed to open up premium recipes to a wider customer base. All recipes are made from start to finish on our family farm in Lincolnshire. We also use our own barley too – pet parents can read all about our farm and commitment to sustainability on the side of the bag.'
Laughing Dog is proud of being an environmentally conscious brand, using recyclable packaging for its new range and a quarter of the company's energy originating from five acres of solar panels on the farm.
--- Ends
For more information, contact Kate Tarrant, Marketing Manager
katet@foldhill.co.uk, 01205 271013
Notes to Editors
Premium British pet food brand Laughing Dog, owned by Fold Hill Foods, produces high quality premium dog food.

All Laughing Dog products are naturally wholesome with the company using as many of its own ingredients from the British Lincolnshire countryside as possible to ensure dogs get the nutrition and nourishment they need to live a fit and healthy lifestyle. Laughing Dog produce a range of wheat free recipes, as well as a full range of grain and gluten free recipes.

Laughing Dog prides itself on using high quality ingredients; if they cannot use their own ingredients, Laughing Dog will use approved suppliers only; meeting British Retail Consortium (BRC) standards to ensure all ingredients are carefully sourced.

Laughing Dog products are made to FEDIAF guidelines. All meat used meets human grade standards and is ethically sourced. All produce is GM free, and there is no added sugar or added artificial colours, flavours or preservatives in the completes, treats or mixer meals.

For more information visit: https://www.laughingdogfood.com