Leading Healthier Living Awards Forum (for Humans) Recognises The Dog Treat Co At Its Annual Awards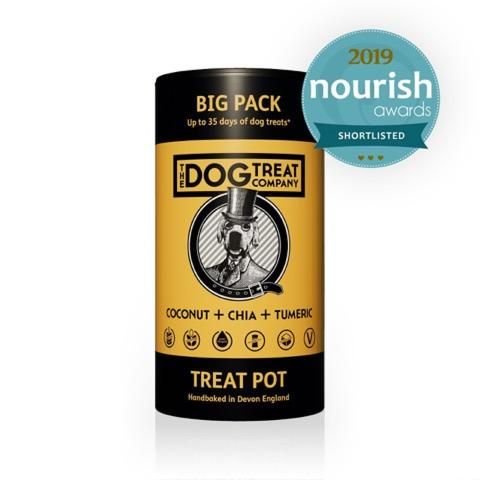 It's certainly no mean feat being recognised by one of the UK's leading 'healthier eating' institutions, especially when you cater for the four (not two)-legged consumer.
For as long as it's been going, The Dog Treat Company has made it its priority to highlight the many unhealthy currently pitfalls facing a vibrant UK pet food scene, poor choices that often emanate from poor health priorities initially made within human food: convenience over ingredient integrity, a flagrant disregard for salt and/or sugar, a blind eye to pointless, 'nutritionally vacant' fillers and an unhealthy indifference to nutritionally well-rounded ingredients.
Devon's most discerning dog treat provider has long been admired for its pro-active appreciation of beneficial superfoods, meticulously balanced recipes and its gritty commitment to never skimp either in terms of taste or nutritional depth. As a result the pioneering creation of a clean-deck/ plant-based treat made with human-grade ingredients made perfect sense.
According to The Dog Treat co-founder, Joe Halliwell, 'Historical attempts to enter our treats into human-food orientated awards have been met with an unsettling combination of wide eyes and blank expressions, with too many event organisers failing to appreciate the simple reality that people who care about what they put in their bodies are more likely to demand the same exacting standards for their dog's daily diet. Dogs unlike their owners have little say in what they eat so it's imperative that pet owners are kept well informed, both in terms of ingredient deck integrity and transparency. Irrespective of whether we win or lose in September we heartily applaud Nourish for adding pet treats to their healthier living agenda.'
The aforementioned Coconut, Chia & Turmeric dog treat represents a positive commitment to those hounds who've historically suffered from delicate tummies or meat/protein-based allergies. Each wheat/gluten-free treat offers a generous dose of lauric acids (anti-bacterial/anti-viral benefits) and beneficial 'fatty acids' which bolster K9 immunity PLUS AID brain/eye development, whilst superfood turmeric is widely admired for its far-reaching, anti-inflammatory propertie.s
N.B. Later this Summer The Dog Treat Co will extend its vegan treat offer (home & export markets) with 3 more Coconut + propositions being launched at Super Zoo (Las Vegas) Aug '19
Thedogtreatcompany.co.uk