Looking after our Planet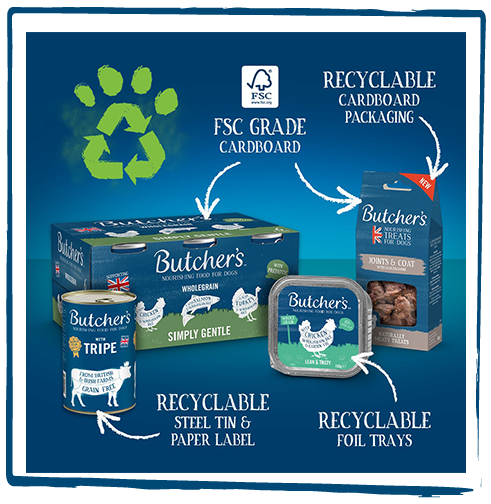 Butcher's™ have been making nutritious food for dogs for over 30 years, and as part of their commitment to keeping dogs as happy and healthy as possible, they also take responsibility for the impact their packaging and manufacturing processes can have on the environment. Butcher's have taken crucial steps towards using more sustainable materials, helping customers to recycle and reducing their carbon footprint.
Ensuring that all of the packaging for their nourishing food and treats for dogs is recyclable has been a key focus. Removing the plastic shrink-wrap packaging from the tinned multi-packs and replacing with recyclable cardboard saves up to 92 tonnes of plastic a year, which is equivalent to 4.2 million plastic bottles! All of the recyclable cardboard is FSC certified which means it is sourced from managed sustainable forests, where harvested trees are always replanted. And it's not just recyclable cardboard, the steel tins and aluminium trays are recyclable too. They can be easily and sustainably turned into new materials, like car parts, bicycles, or even more tins for Butcher's tasty recipes!
It's not just the packaging that's eco-friendly, Butcher's are always looking at improvements to their head office and factory. Both are already energy efficient, all rain water is collected from the roof and used to power the loos, and they harness solar energy with solar panels on the roof. They have recently embarked on a sustainability project in our factory which is helping them to reduce their carbon footprint, saving 150 tonnes of carbon every year and helping to generate 85% of their own electricity.