10 Oct 2019
Major pet companies book their stands at PATS Sandown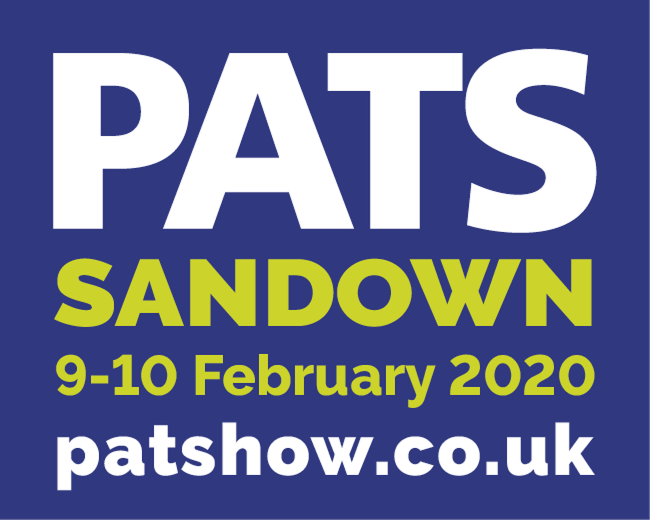 Following a hugely successful show at Telford last month, PATS Sandown on 9-10 February 2020 looks set to be another must-visit event for pet retailers and buyers.
Bookings for the Sandown Park showpiece in Surrey are impressive, with many industry-leading exhibitors already committed to the event. These include previous exhibitors such as Anco, Beaphar UK, Danish Design, Dorwest Herbs, flexi, IPN, Johnson's Veterinary Products, Kong, Marriages, Natures Menu, Petlife International, Pet Munchies, Pet Trade Innovations, Royal Canin, Sky Pet Products, Symply Pet Foods and Trixie, amongst many others. For a full list see the PATS website www.patshow.co.uk.
"We are really excited about our exhibitions in 2020 after two wonderful events at Sandown and Telford this year," said organiser Gordon Thomas.
"The new show dates for PATS Sandown in 2019 – a Sunday and Monday in February – allowed exhibitors to launch products to the trade early in the year, giving retailers the chance to stock them in time for major consumer events like Crufts. So we are pleased to announce we'll be sticking to this winning formula.
"The major pet brands have already booked their stands along with a host of new suppliers, and visitors to this premier Spring show can be certain of seeing all the new launches under one roof. It's reassuring to know that the pet industry continues to get right behind the UK's number one pet retail show brand."
Inspired Pet Nutrition (IPN) was the first company to book a stand at PATS Sandown when the exhibition was launched in 2009. It has showcased its popular Wagg and Harringtons brands at every show since.
IPN's sales director Ben Anderson said: "PATS is always an extremely well-organised event and it's great to see such a broad range of exhibitors across all sections of the pet trade.
"The show is the perfect platform for new product launches, and we are already looking forward to Sandown where we will be showcasing our new Harringtons treats."
PATS prides itself on attracting the key decision-makers and buyers from UK and international companies. The recent winner of the PetQuip UK Pet Retailer of the Year - Just for Pets - is one of the many major retailers to make the PATS Sandown and PATS Telford shows key dates for its calendar.
The chain has 16 stores across the Midlands and Cambridgeshire. General manager Paul Lewis said: "PATS is a great showcase for everything that is available under one roof. It gives you the opportunity to build relationships not only with suppliers but also with other retailers, so you can continue to build your business, ask for advice and help each other out."
Visitors to the show will be able to see an unrivalled array of new-launch products, watch demonstrations from the country's leading dog groomers and listen to talks from prominent industry figures. For all the latest news on PATS visit www.patshow.co.uk
Ends 3rd October 2019
Photographs of PATS Sandown 2019 are available as follows:
1. Visit www.sirastudio.com
2. Click on Galleries
3. Click on the Conference and Exhibitions folder
4. Click on the PATS Sandown 2019 folder
5. On the password screen enter: pats19sandown
For further media information please contact Neil Pope or Justine Thompson on 07595 442601, or email
press@impact-exhibitions.com