What makes PATS Telford so special? – curli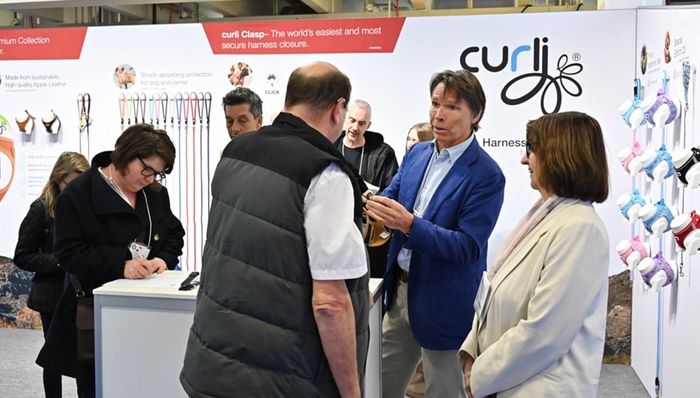 The biggest-ever PATS Telford, which takes place on 1-2 October 2023, promises to be a memorable show in the UK pet industry calendar with more than 250 companies and brands unveiling hundreds of new products.
Three exhibition halls at Telford International Centre in Shropshire will be buzzing with activity as exhibitors showcase their latest launches over the two show days.
As excitement starts to build, an international exhibitor reveals why PATS Telford has become a must-visit event for pet retailers and buyers.
Why have you chosen to exhibit at PATS Telford?
curli exhibited for the first time at PATS Sandown in March and we had a very good experience, especially the support from the PATS team in planning for the show, the logistics and help on site. At the show we got the chance to meet a lot of interesting business contacts.
What makes the exhibition so special?
It provides an ideal opportunity to present curli as a brand along with our products to a wide range of customers in the UK.
How important is it for suppliers and manufacturers to have a show like PATS?
As a brand that is focused on high-quality products it is of course of great importance to us to get the chance for customers to have a closer look at our range and experience the story behind the brand. It also allows us to establish strong and successful business relations.
What are you hoping to achieve at the show?
We are very much looking forward to attend PATS Telford with our new UK distributors Su-Bridge. We are very proud to have found such a great partner. To us this a match in all terms. We look forward to growing this relationship and have a great joint brand presentation at the show.
Will you be unveiling new products?
We are presenting the new curli Clasp Premium Collection made of plant-based vegan Apple Leather.
Why should a retailer take time away from their store to visit the show?
It is always important to take time to be inspired and grow business relations. We are happy to present curli with our team as well as our founders and CEOs. In this way customers and partners get a first-hand introduction to the brand, the story behind it and our products.
Registration for free entry to the show is open for retailers and buyers at www.patshow.co.uk
Ends
Photographs of PATS Telford 2022 are available to download at https://stewartwrittle.dphoto.com/album/xyaf42
For further media information please contact Neil Pope by email press@impact-exhibitions.com