What makes PATS Telford so special? – Zoo Med Laboratories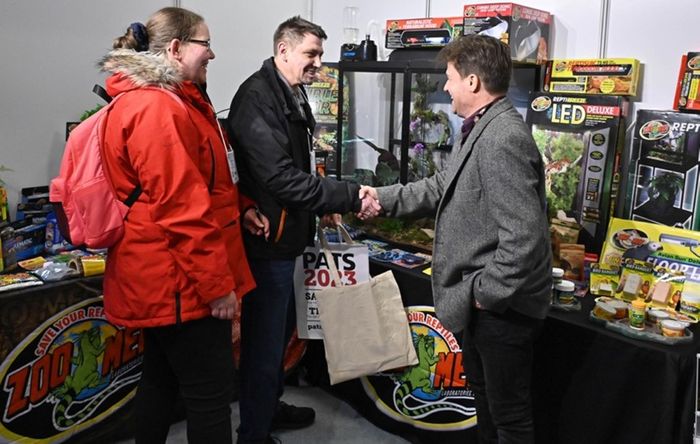 The biggest-ever PATS Telford, which takes place on 1-2 October 2023, promises to be a memorable show in the UK pet industry calendar with more than 250 companies and brands unveiling hundreds of new products.
Three exhibition halls at Telford International Centre in Shropshire will be buzzing with activity as exhibitors showcase their latest launches over the two show days.
As excitement starts to build, an international exhibitor reveals why PATS Telford has become a must-visit event for pet retailers and buyers.
Why have you chosen to exhibit at PATS Telford?
We exhibited at PATS Sandown earlier this year and it was a great success. I am keen to build on that experience and reach out to more retailers.
What makes the exhibition so special?
The organisers and the extremely friendly attitude. It's also a well-attended show.
How important is it for suppliers and manufacturers to have a show like PATS?
Absolutely key. The market wants to see new products and we have plenty of new ones with more to come.
What are you hoping to achieve at the show?
We would like to consolidate our presence with existing customers and reach out to new ones. As well as being the number one reptile brand we want to show retailers that Zoo Med is growing rapidly in the aquatic and avian sectors.
Will you be unveiling new products?
Yes, many. As the company continues to grow, we are more than doubling our production capacity and will soon be able to claim to have the biggest glasswork facilities in the USA. These are exciting times for Zoo Med, and we want to share that with retail partners.
Why should a retailer take time away from their store to visit the show?
You'll get left behind if you do not see all the new products being launched at the show.
Registration for free entry to the show is open for retailers and buyers at www.patshow.co.uk
Ends
Photographs of PATS Telford 2022 are available to download at https://stewartwrittle.dphoto.com/album/xyaf42
For further media information please contact Neil Pope by email press@impact-exhibitions.com