New Little One feed: for dwarf hamsters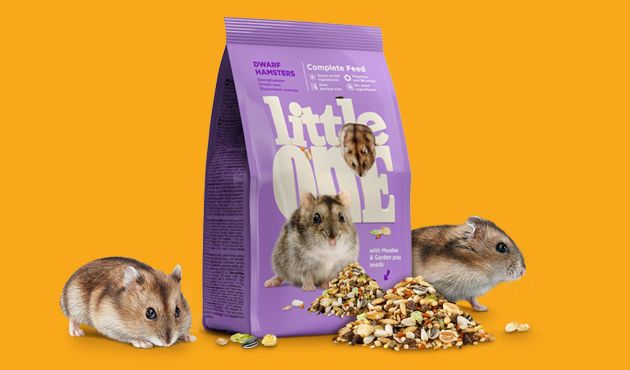 The new Little One Feed for dwarf hamsters was developed at the request
of owners and breeders who favour an individual feeding approach for these species.
It is a complete feed, which is balanced in accordance with the individual nutritional needs of dwarf hamsters and was developed with recommendations of breeders.
The feed has an extra varied composition and covers all requirements for nutrients,
vitamins and minerals necessary for the health of your pet.
All components if the feed are of a suitable small size, tailored to meet the dwarf hamster's need. The rich composition includes a lot of millet seeds, variety of meadow and garden grass seeds and other beneficial ingredients loved by these animals. The feed is enriched with a vitamin & mineral complex the feed for the pets' health and well-being. It does not contain any sharp components, or sweet ingredients for diabetes prevention. Complex of zinc and biotin provides care for healthy skin and beautiful fur. Prebiotic in the food promotes proper intestinal flora and optimal digestion. Yucca extract prevents unpleasant odour.
We are sure that small cute hamsters will enjoy the new feed and it will help the pet parents to take care of their health and well-being!
The feed is available in 400 g and 20 kg packages.