18 Jul 2019
Moving mountains – Fish4Dogs comes to the rescue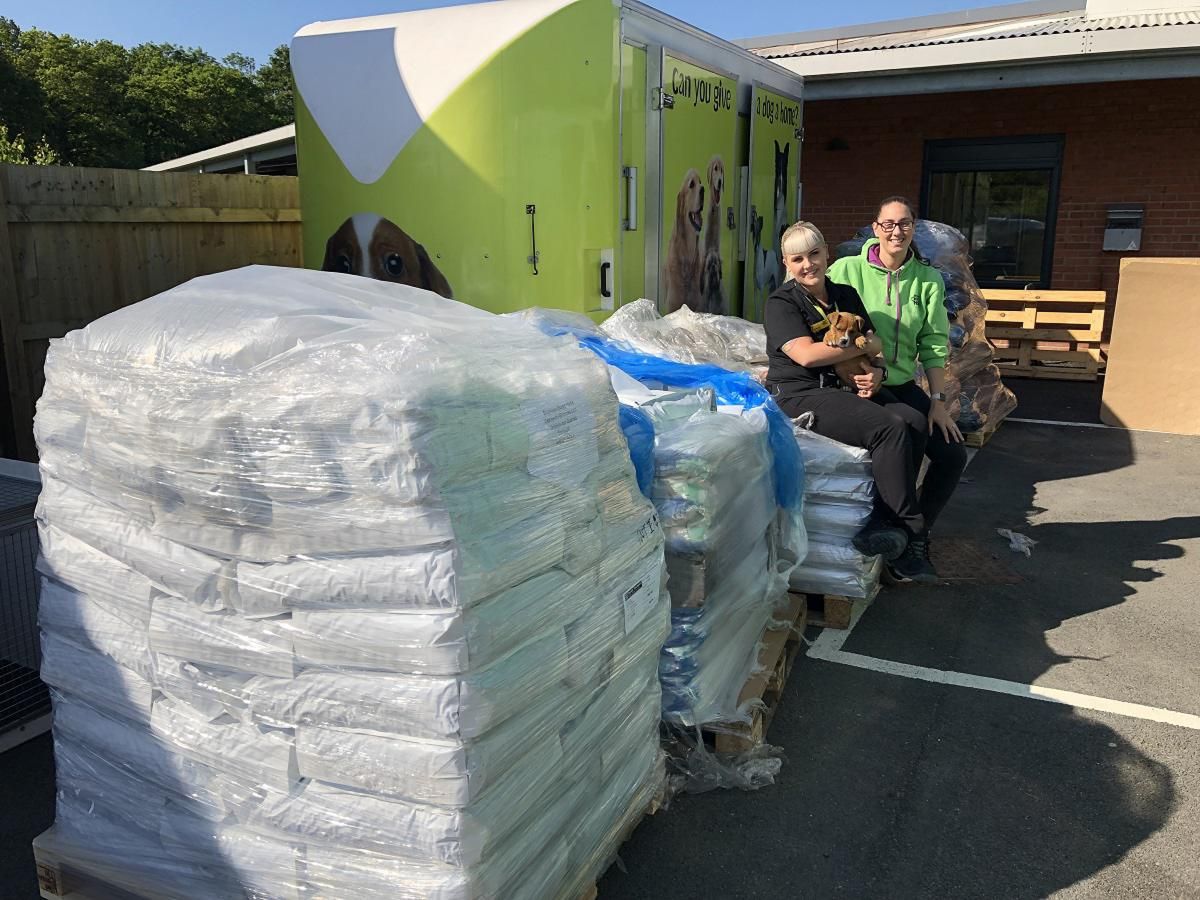 A three-ton consignment of food – the equivalent of 16,000 meals for an average dog – has been donated to the Birmingham Dogs Home (BDH) by Fish4Dogs.
The selection of kibble, sufficient to feed a notional dog for the approximately 44 years, was transported on five pallets to the rescue centre's head office in Catherine-de-Barnes, Solihull.
Unpacked by volunteers, it has been stored in a purpose-built container to maintain its 18-month shelf life while drawn down for use across its two centres) that can home a combined total of 230 dogs at any one time.
The donated dry food has been used in packing trials to test quality assurance for stacking and transportation processes in the lead up to the premium pet food company's brand refresh later in the year.
BDH has been operating for 127 years has a heartfelt mission: to rescue, reunite and rehome all of the dogs which come under its care. It has rescued over 2,700 dogs and rehomed in the region of 1600 of them in new and loving forever homes. In addition, BDH carries out extensive outreach work to educate children on the importance on caring for a dog. Together with veterinary costs, it is a quest that costs £2.3 million to run annually.
Said Fish4Dogs CEO Graham Smith: "We have worked closely with Birmingham Dogs Home for some time now and know that the average cost of looking after each dog equates to more than £700. Some dogs will require greater care and attention than others, they may have a longer road to recovery and we want to give them the best possible start with a food which incorporates essential nutrients to assist recovery while being gentle for those recovering from illness or infirmity."
Giles Webber, Chief Executive, of BDH, said: "It is our long-held wish that one day there will be no need for a centre like ours and that through education and information, the generations to come will have a greater desire to cherish their canine companions.
"We will continue to work tirelessly towards this while at the same time provide that best possible care for those dogs that come into us and ensure that they have the chance for new and better lives.
"We are delighted that Fish4Dogs are on that journey with us. In addition, to the practical benefits that its food will give to the dogs in our care, we are united by a commitment to support animal welfare and ensure that every dog gets its chance to lead its best life."
For more information about Fish4Dogs visit www.fish4dogs.com or see www.birminghamdogshome.org.uk to learn more about the work of BDH.