New generation of RIO Eggfood!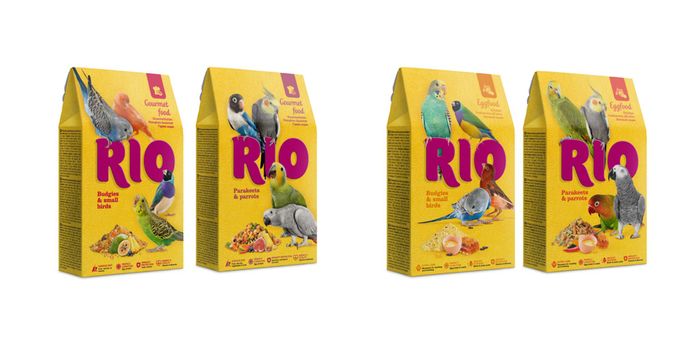 The innovative products include a whole range of delicious ingredients: tasty seeds, honey, various fruits, berries and insects - ensuring a healthy and balanced diet of a bird.
Egg white is rich in essential amino acids which are responsible for good skin and feather condition, added vitamins and minerals serve as sources of energy and vitality.
A new line of complementary food has been developed taking into account the individual needs and nutritional habits of various bird species.
RIO Eggfood - produced from whole eggs with the addition of honey, vitamins and minerals. The combination of biotin and amino acids contributes to the formation of a healthy plumage. Rich in vitamins and other nutrients, RIO eggfood is an indispensable supplement that balances and diversifies the healthy diet and will be especially useful during growth, molting, and the breeding season.
RIO Gourmet food – sophisticated egg-based feed, with a rich and diverse composition! Egg white, complex of gourmet ingredients, vitamins and minerals - will enrich the daily diet, and allow you to pamper your feathered pet. Pieces of fruits and berries, vegetables, seaweed, honey and seeds - an explosion of taste and joy! These ingredients will make a bird energetic and very happy!