New Product Launch: Be:Loved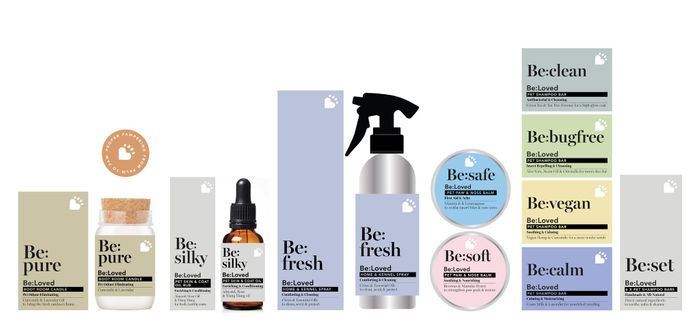 "Our new brand – Be:Loved - allows us to strengthen our portfolio and emphasise our commitment to the pet care sector, naturally. We have an ambitious range of giftable and practical kennel sprays, paw and pad balms, shampoo bars, fur oil and odour eliminating candles as well as additional skus in the pipeline. Inspired by nature's offerings these ethically manufactured products will provide pet parents with natural alternatives for their everyday pet care." said CEO Carina Evans.
Inspiration:
The inspiration for Be:Loved was an old family heirloom; a farmhouse animal husbandry care book. Carina's family used to create cures for their stock using nothing but the hedgerows and nature's harvest. They compiled a treasure chest of recipes – from soaps and shampoos to help farmers clean grubby hands and paws, to moisturising balms for callouses – and absolutely everything was natural. "We used and reimagined these recipes for our four legged friends and have an effective & luxurious range of products to help care for & delight pet and pet-parent alike."
Living their best life – "We do everything with our pet, and they know they are a part of our family. They are loyal and loving, but I still want to earn that trust through an unspoken bond that they have given me as their pet-parent, so I know I'm giving them their best life with us."
Brand Story
The Be:Loved brand is HONEST, RELEVENT, CONSIDERED and DIFFERENT. Thanks to established distribution networks and commitment to excellent customer service, Be:Loved will be widely available to all pet owners. The products are designed to be a daily, weekly or just-because companion to pet ownership.
Our Commitment:
Everything is made in the UK. "Our quest is for a greener world hence all products are made from sustainable ingredients, and reduced plastics & packaging wherever possible. We test everything on ourselves and all products are made by hand". All products have lovely, natural fragrances and are presented in beautifully designed packaging that fits seamlessly into your home.
What makes us different?
Be:Loved is a luxury but affordable British pet care brand that believes the best relationships are based on trust, love and respect. "With knowledge of animal care in our DNA, we take our own practical, natural remedies, honed by different generations, and reimagine them for modern life to care for and indulge you and your pet".
Be:Loved's purpose is to deepen the bond between pets & their parents so they can enjoy living their best lives, together. The tone is knowledgeable, warm & genuine. The products are authentic, positive & indulgent and look natural, confident & considered.


Founder Story
Carina, Nick and Andrew have a genuine pedigree in animal care. They won the Queen's Award for Enterprise building an international pet care business, and Carina has been a leader in the industry for over 10 years. Carina loves horse riding, and her young family keep horses, dogs and chickens. She and her business partners are from farming families in Dorset, Wales and Australia. They have inherited not only the love of animals, but the healthy respect and practical care for working animals and domesticated pets that pet parents truly appreciate."
Be:Loved – living their best, together. Let your animals roam itch-free, odour-free, carefree. Dote on them. They deserve it. Let them Be:Loved.
For further info, images, prices, product news & samples, please be in touch and visit us at PATS Sandown 2020 Stand # D2 Surrey Hall.