New Recipes Added To Air-Dried Dog Food Range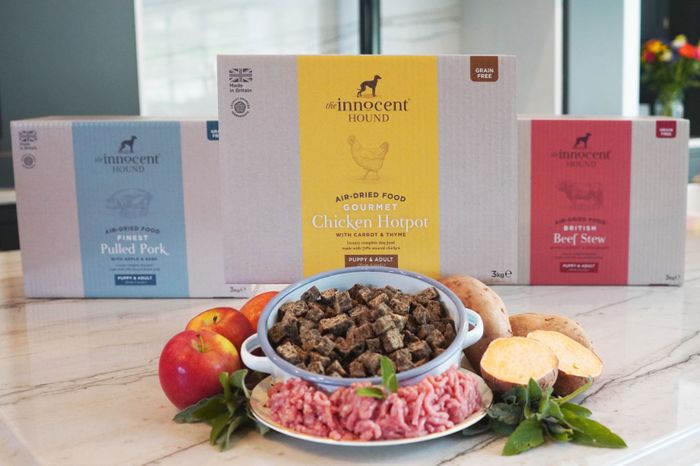 May 2021
Yorkshire-based pet food manufacturer, The Innocent Pet, has extended its award-winning air-dried dog food range with three new single protein recipes.
Founder, Chloe Heaton commented: "We are very excited to be adding three new recipes to our food range – Finest Pulled Pork, British Beef Stew and Gourmet Chicken Hotpot. We wanted to continue offering delicious options in addition to our existing recipes, so we listened to our customers to understand the flavours their hounds enjoy."
The complete dog food range now includes seven grain free, single protein recipes for dogs – each including human-grade British meat or MSC sourced fish, selected fruit, vegetables, and herbs, as well as the inclusion of prebiotic chicory root to maintain good gut health.
As demand for good quality pet food in the UK continues to soar, The Innocent Pet has managed increasing sales without experiencing delay to raw materials as the business sources British meat for its full product range.
Founder, Chloe Heaton said: "Since the launch of our complete dog food range in 2018, we have been overwhelmed with support from our customers wanting to feed their dogs with this new format of food – our bespoke air-drying processes don't use heat or cooking during production so all nutrients from the raw ingredients are maintained. We use quality British meat which is something that more consumers are looking for in their pet's food these days."
The full air-dried complete dog food range is now suitable for both adult dogs and puppies from eight weeks.
The food packaging contains resealable pouches, keeping meals fresh for up to eight weeks once opened. It is also 100% recyclable and is available in 3kg packs with an RRP of £43.