Nutriment 'Support' range wins at PATS Sandown New Product Awards 2019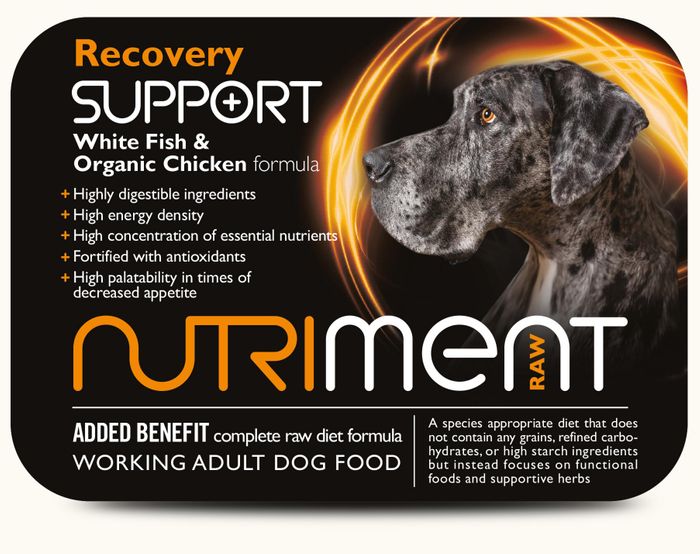 Nutriment, a multi-award winning leader in the innovation and development of premium, raw canine and feline nutrition products, has proudly added to its accolades following this year's PATS Sandown. Winning the New Product Award in the Dog Food Product category, the Nutriment Support range was championed due to its local ingredient sourcing, great packaging and ability to bring safe, raw feeding solutions to dogs with more specific needs and support requirements.
Annoucned in November 2018, the Nutriment Support range consists of five raw food products for dogs: Light, Low Purine & Phosphorus, Liver, Kidney and Recovery. Low in fat and highly digestible, these recipes are specifically designed to provide nutritional support for ongoing health concerns more prevalent to today's dogs. Expertly formulated by Nutriment's in-house canine nutritionists, with the support of veterinary partners and experts in the industry, the Nutriment Support range features specially selected, premium ingredients, including British, human grade meats and natural superfoods, to ensure that they are of superior quality and effectiveness.

Speaking of the new portfolio when it was launched, Suzanne Brock, Managing Director of Nutriment, commented, "With an ever-growing emphasis on the importance and awareness of canine nutrition, we felt it was necessary to create a range which could provide our customers with the ability to nutritionally support their dogs' health concerns. Producing the best foods possible is a fundamental principle to us at Nutriment."

PATS is the UK's number one pet trade event and is the ultimate platform for the exposure of ground-breaking, innovative and inspiring product developments in the pet industry. The event takes place twice a year: in February in Surrey, and in September in Telford. Combined, the two exhibitions attract around 4,000 visitors and over 200 exhibitors. Hosted for the first time on a Sunday and Monday, the Sandown event welcomed record numbers of nearly 2,000 visitors; the highest in its 11-year history.

The New Product Showcase, sponsored by pbwnews, provides an opportunity to honour and celebrate the most innovative, original and high-quality new products in the pet industry, which have been launched during the past 12 months. Once again, records were broken with the impressive number of new products submitted into this year's showcase, emphasising the strong demand for creation of new pet products.

"PATS Sandown was our most successful trade event to date. Fundamental to the success of this year's show was our new range, Nutriment Support, winning the Dog Food Category in the New Product Showcase. Nutriment always strive to be the industry leaders, and to receive that recognition is a reward for all of the dedication and extremely hard work that goes on behind the scenes," commented Ryan Winwright, Trade Manager for Nutriment. "The award brought a noticeable boost to the stand visitor numbers, resulting in a very strong uptake on our exclusive PATS freezer deals. We are very much looking forward to the next PATS show in Telford, where we will continue to showcase our latest developments."