Nutriment to debut at Zoomark International 2019 in support of European expansion strategy.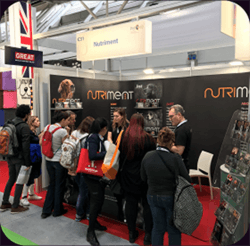 Nutriment, a UK-based innovator in the development and evolution of premium canine and feline nutrition products, will be exhibiting for the first time at Zoomark International in Bologna, Italy, this month.
Following a very successful debut exhibition at 2018's Interzoo in Nuremburg, Germany, this further strategic investment is in support of the company's European expansion plans for 2019 and beyond.
Zoomark International is a global, biannual trade show for pet products and accessories; celebrating its 18th year of business this year. The show welcomes over 700 exhibitors and 27,000 visitors from more than 100 countries, making it a truly worldwide sales and marketing platform. The exhibition's primary aim is to showcase the latest trends and innovations in the pet industry to a global trade audience.

"At Nutriment, we pride ourselves on our fundamental principles of innovation, quality and optimal animal health," comments Suzanne Brock, Managing Director of Nutriment. "It's with dedication and commitment to these values that our Support range was recently formulated and launched. We will be showcasing the portfolio at this year's Zoomark to demonstrate to our pan-European audience how we can nutritionally support our dog's health concerns with raw feeding solutions."

Expertly formulated by in-house canine nutritionists, with consultations from veterinary partners and industry experts, the Nutriment Support range consists of five raw food products: Light, Low Purine & Phosphorus, Liver, Kidney and Recovery. Low in fat and highly digestible, these recipes feature specially selected, premium ingredients, including British, human grade meats and natural superfoods for optimal nutritional support. With an ever-growing emphasis and awareness of canine nutrition, and a demand for high-quality, natural and beneficial ingredients in dog food, this new portfolio has been designed in true response to consumer demands across the UK and wider Europe.

With what has been an incredibly eventful 12 months for the 5-year-old enhanced raw food company, a recent relocation and expansion of its production facilities was announced earlier this year. The purpose-built facility, located in the rural countryside of Hampshire, England, will serve as the manufacturing space for the complete Nutriment portfolio, which includes the Core, Just, Support, Dinner For and Laverstoke Park Farm ranges, as well as treats, bones and offal. Since its establishment, Nutriment has quickly outgrown its two previous production sites, due to the overwhelming demand for premium, high quality, raw feeding solutions for dogs and cats.

"We have always had the pan-European marketplace as part of our long-term business strategy and company vision. Increasing our production capacity, extending our product portfolio and increasing our presence at pan-European trade shows, such as Zoomark, are all part of our direction and commitment to bring our premier raw food products to the wider European marketplace," adds Suzanne.
Nutriment can be found in the British Pavillion - hall 26, stand C31 - for the duration of the exhibition (May 6th-9th) and welcomes retailers, distributors and trade partners from across the globe.