Organisers plan for biggest-ever show at PATS Telford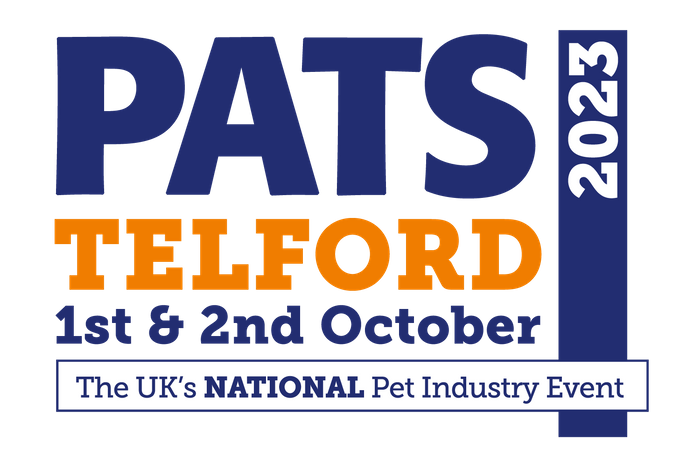 Visitors to PATS Telford in October are in for a real treat as organisers of the UK's number one pet industry exhibition promise to stage the biggest-ever PATS event.
More stand space has been provided in three halls of Telford International Centre as demand from companies to showcase their products and services increases.
With still over five months to go before the show – Sunday, 1 October and Monday, 2 October 2023 – more than 140 companies and brands have already booked to exhibit, which represents 86% of the stand space.
As well as the industry's big-name brands, a growing number of new companies have chosen to exhibit at PATS Telford, and as a result a New Starter Zone, supported by PetQuip, will be given a prominent position in Hall 3.
"The demand for stand space at PATS Telford has been phenomenal, so we took the decision to extend even further into Hall 3," said organiser Gordon Thomas, of Impact Exhibitions and Events.
"It's great to be able to offer pet start-ups the chance to showcase their new products and services in the New Starter Zone, and the take-up has been really good so far."
Newcomers to PATS Telford include Poorly Paws, which produces first aid kits for pets. The company's Alex Surace said: "We are excited to be exhibiting at PATS as it's the perfect platform to show pet industry professionals our innovative and interactive range. It's a great opportunity to demonstrate our product."
It's a similar story for Fetched, whose Kayleigh Bowles commented: "It's extremely important for us to create long lasting relationships with likeminded retailers and professionals, ensuring our brand grows in the way it deserves. PATS is the ideal exhibition to showcase our growing collection to respected buyers within the industry."
The timing of PATS Telford is also perfect for another first-time exhibitor, Snoots & Sploots, which markets pet businesses. "This summer we're launching our mutts nuts, cats pyjamas of pet business directories. We couldn't think of a better place for our first official Snoots & Sploots event, and are really excited to meet other businesses that share our passion for furry friends," said Samantha Lambert.
Peterals is making its debut at PATS Telford and is excited to offer its products to the retail sector for the first time. "PATS Telford will allow us to meet buyers in one location, making the buying/selling experience seamless," commented Matthew Hollands.
In a move to create more interest with international buyers, the PATS team will be travelling to Zoomark International, Italy, in May to exhibit in the British Pavilion.
"Our primary aim for exhibiting at international shows is to meet, talk to and encourage international retailers and distributors to come to PATS," added Gordon Thomas.
Leading trade association PetQuip will also be working with PATS to tempt international pet retail chains and distributors to the Autumn showpiece.
The association's involvement doesn't end there because it will be staging its prestigious PetQuip Awards after the first day of the exhibition.
The New Product Showcase, sponsored by pbwnews, will again be a popular feature of the show as it gives visitors the chance to see and touch the new products they will be stocking for the coming season.
Entries to the Showcase will judged by a panel of retailers for the New Product Awards on the first morning of the show, so the results will be known and highlighted throughout the three halls for the rest of the exhibition.
To help make the visitor experience even more enjoyable and rewarding, PATS Telford offers free show entry, free parking, a free catalogue and many special deals.
There will also be a wide range of food available, and visitors will receive a complimentary lunch voucher in addition to the regular complimentary tea or coffee voucher.
Pet product retailers and buyers can now register for free entry to PATS Telford at the new look website www.patshow.co.uk where a full list of exhibitors can also be found.
Ends
Photographs of PATS Telford 2022 are available to download at https://stewartwrittle.dphoto.com/album/xyaf42
For further media information please contact Neil Pope by email press@impact-exhibitions.com