16 Aug 2019
PATS is the show on everyone's 'must-do' list!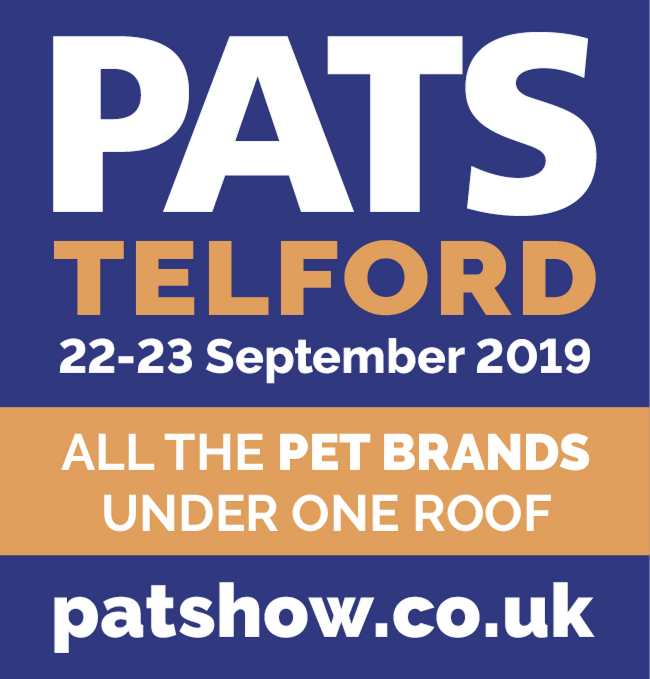 PATS, the UK's No1 Pet Industry Exhibition, has gone from strength to strength every year since its launch in 2009.
More and more pet industry exhibitors are finding it the ideal opportunity to get down to business with customers old and new. The show is the ideal environment in which to meet up with and support regular clients, network with colleagues and showcase all the fantastic products on offer.
It's also a very well-run and extremely friendly show, where the PATS team go above and beyond to support exhibitors and visitors with all their requirements.
But you don't need to take our word for it!
Here are just some of the comments from happy exhibitors who are returning to the show at the Telford International Centre on September 22nd-23rd 2019:
"PATS Telford is great. It's a show where you get double, triple bites of the cherry! You get to launch new products, meet new customers and talk to existing customers. It's all about getting feedback from people and being able to maintain those great connections."
Greg Van Praagh, Benyfit Natural
"Having previously visited PATS Sandown, we knew we just had to be a part of this great show and booked a space in Telford without hesitation. We believe this is the best place in the UK to showcase new products, talk business and meet like-minded people from around the globe."
Victor Margevich, Pets and Pods Furniture
"PATS Telford is a fantastic show, which always kickstarts our busiest quarter of the year. It's easily accessible to retailers nationwide and gives us an opportunity to showcase new products to the trade in advance of the lead up to Christmas. The PATS team are also great hosts, making exhibiting as stress-free and enjoyable as possible!"
George Bramble, Beco Pets
"PATS is a fantastic opportunity to meet the people who share a passion for our products. It gives both parties a chance to discuss and share insights about their businesses face to face."
Charlotte Mews, Burgess Pet Care
"After visiting PATS Sandown we were impressed by the scale of the event and potential for trade exposure and were keen to be involved with Telford. It's a well-organised and sizeable show, and a great opportunity to meet a wide range of retailers face to face and showcase our pet supplements range. We're looking forward to meeting retailers we haven't worked with before, as well as reconnecting with our current stockists and providing fresh product information as well as some great show offers."
Helen Hounsell, GWF Nutrition
Over the years, PATS has proved to be the ideal launchpad for new ranges from established companies and even to help kickstart companies with ideas and ranges new to the pet trade. The show's regular New Product Awards and Showcase, sponsored by pbwnews, are a major contributor to this, as new releases are displayed together on one eye-catching stand, with labels easily directing visitors to the appropriate exhibitor. Entries are judged by a panel of independent retail experts across a number of categories and winners can proudly display their plaques on their stands.
These are just some of the comments from the many companies who have enjoyed success with new products thanks to their exposure at the UK's No1 Pet Industry Exhibition:
"WildWash first exhibited at PATS when we launched the brand and it kickstarted our business. We return every year and meet existing and new clients in a wonderfully vibrant and friendly environment. We love PATS!"
Jane Cooper, Pet Revolution
"PATS has helped our company to grow and to give us the confidence to offer over 40 different varieties of treats. The diversity of visitors is fantastic, from small to large retailers, vet practices, groomers, garden centres and on-line retailers – all in a couple of days. It makes this such a great industry exhibition."
Suzanne Rothman, Pet Munchies
"We have chosen to release our new product at PATS Telford because it's the perfect location to demonstrate it to both existing customers and potential new stockists."
Ed Hoare, Ruff and Tumble
"PATS is the obvious choice for us as a company to launch new products - it's the perfect platform to reach existing and new customers from all areas of the pet and animal health industry."
James Hancock, Petlife International Ltd
A full and up-to-date list of exhibitors is available on the website www.patshow.co.uk together with information on how to reach the venue and regularly updated show news.
Ends 12 August 2019
Photographs from PATS are available to download
1. Visit www.sirastudio.com
2. Click on Galleries
3. Click on the Conference and Exhibitions folder
4. Click on either the PATS Sandown 19 or PATS Telford 18 folders
5. On the password screen enter: pats19sandown or pats18telford respectively
For more information contact Neil Pope or Justine Thompson at press@impact-exhibitions.com or on 07595 442601.