PATS proves itself as number one with successful Spring show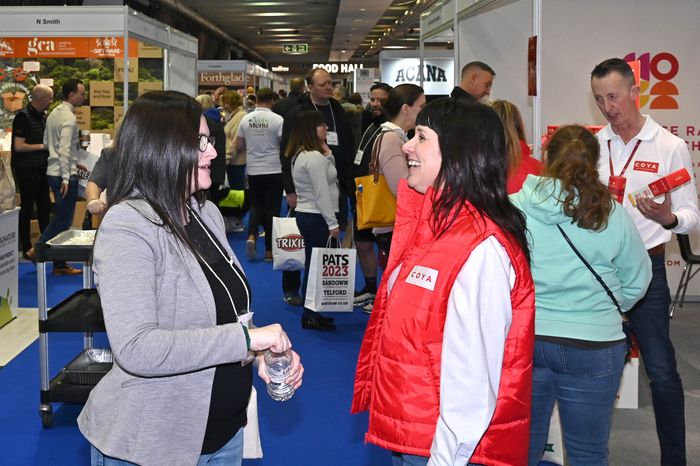 PATS has proved itself yet again to be the UK's number one pet industry exhibition with suppliers and buyers agreeing the Sandown show had been a huge success.
With more than 150 companies and brands exhibiting their vast ranges, there was plenty for visitors to see and talk about during two days of non-stop activity.
Much of PATS Sandown's success is down to the fact it provides the perfect platform for retailers and buyers to see, feel and touch all the latest new products under one roof.
This year's show was no exception as visitors gave it the thumbs up. Lyn Neal, of Pet Express Pet Shop in Hastings said: "As a retailer it's important for me to come to PATS Sandown – I visit every year. It's very inspiring to see all the latest launches on display, and then meet up with the product suppliers. I always look forward to the show."
Chris Murray, travelled three hours from his Brysons Pet Supplies store in Exeter. He commented: "I'm a stickler for seeing and feeling new products before I buy them, and visiting PATS Sandown gives me that opportunity. For me it's a long drive to the show but well worth the trip."
And Jane Dixon, head of e-commerce at online retailer Get Set Pet, added: "PATS is a great source of information and new products, and it's ideal to have everything and everyone all under one roof. I'm particularly interested in sustainable options and I've seen lots of products that tick the box at Sandown."
Maja Frangos, retail buyer for Battersea Dogs and Cats Home, said: "We visit PATS because having face-to-face meetings with suppliers is crucial in our business. As well as the great networking opportunities we also get the chance to see the latest products."
PATS Sandown was the place for pet retailers to see a host of new exhibitors as well as the industry's big-name brands.
First-time exhibitor Percuro Planet Friendly Pet Food created lots of interest on its stand. CEO Brett Vye said: "PATS has been perfect for us to introduce our brand to the UK market. We've spoken to a good mix of people, including buyers from pet stores, groomers and garden centres. We've been very impressed with the response."
And Peter Roy, founder of COYA Pet, added: "There has been no better place to spread the message about the launch of our new products – freeze-dried raw pet food and treats. PATS has been the perfect platform to explain the benefits of the products, and I've been impressed with the quality of visitors to our stand."
It was a similar story for Grub Club, whose Hugh Petit said: "This is our first time at a PATS show and we've found it a great way to connect with retailers and buyers. We're a fairly new business so it's important for us to spread the word about our brand – this show has definitely helped us to achieve our goal."
Julia Brown, director of OLUV, commented: "The decision to take a stand at PATS has paid off for us as it has allowed us to present our cat-litter product to a captive audience. We've had lots of positive feedback. We've also welcomed the networking opportunities that PATS presents."
Regular exhibitors also gave PATS Sandown the thumbs up.
Stuart Ferriday, trade marketing manager at Forthglade, said: "We always value our time at PATS. It's great to introduce new product launches at the event and get some great feedback. We've been able to catch up with customers old and new, and offer some exclusive trade deals across our products – as ever it has proved a great show."
Grant Rogers, of 3P Enterprise, added: "The timing of the exhibition has been perfect as we've been able to launch US brand Jolly Pet on to the UK market. Together with the Henry Wag display, this range has created lots of interest on our stand."
The last word goes to Nick Franks, director of Johnson's Veterinary Products, who said: "As a well-established business it is important for us to exhibit. The UK pet industry needs a successful show like PATS Sandown."
Date for the diary
PATS Telford: 1st-2nd October 2023
Official photographs can be downloaded at Photographs of the presentations are available at https://stewartwrittle.dphoto.com/album/8qe8ob
For more information contact Neil Pope at press@impact-exhibitions.com or on 07595 442601.