PATS Sandown 2022 New Product Awards revealed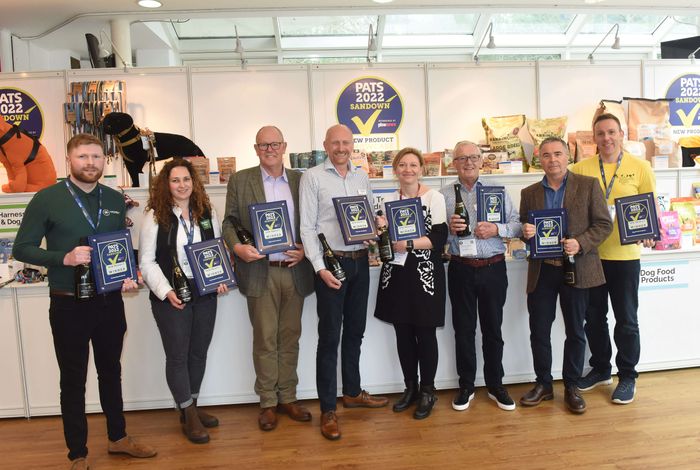 The winners of the PATS Sandown 2022 New Product Awards, sponsored by pbwnews, were chosen by a team of independent pet retailers, who arrived at the show before 9.30am on Sunday, March 27th, in order to make their choices from more than 200 new products entered.
Their decisions took into account a number of guideline criteria such as product innovation, design, quality, packaging, value for money and sustainability.
The judges agreed that the New Product Showcase had produced a high calibre of entries with a tremendous amount of innovation. They were pleased to see such a wide range of products in the eight categories
The Awards were presented to the winners at 1pm on Sunday by David Rees, editor of pbwnews, and show organiser Gordon Thomas.
Here is a full list of the winners together with the judges' comments:
PATS Sandown 2022
New Product Award Winners (sponsored by pbwnews)
Cat Food and Products
Natures Menu Especially for Cats Multipack
Natures Menu (stand F14)
Judges said: "This product contains fabulous ingredients from a popular and well-known brand. It's ideal for those owners wanting to feed their cats with high quality food. It's also reasonably priced."
Dog Food Products
Carnilove True Fresh – Turkey, Beef or Fish Dry Food
Carnilove (stand N14)
Judges said: "It's a great to see a potato-free dog food with excellent ingredients. This product comes in attractive packaging at a good price point."
Dog Treat Products
Dog Treat Baking Kits
The Doggy Baking Co (stand A5)
Judges said: "This range of products is a great new idea within the pet industry. It's innovative, unique, easy to use and tasty. Dogs will just love it. The product also looks fantastic and will fly off the shelves."
Dog Accessories and Toys
LickiMat UFO
Sharples Pet (stand G7/G4)
Judges said: "This is a great addition to an excellent range. The introduction of suction cups will make the product stick to any surface and is a very clever idea."
Dog Harnesses, Leads and Clothing
Friday Collective Corduroy
EzyDog UK (stand L4)
Judges said: "A good looking product at a great price. It's attractive as well as being tough and durable. Extremely practical, it also has a focus on style and fashion."
Small Animal and Bird Products
Little One Starter Set
Mealberry (stand E9)
Judges said: "At a good price with attractive packaging, this product is a good starter pack for new and junior pet owners. It's an excellent and well-rounded addition to the small animal market."
Pet Care Products
Natural Calming Puppy Hamper
Pet Remedy (stand K5)
Judges said: "This is a great product for helping to settle and train a new puppy. It allows the owner and puppy to bond quickly. It's a fabulous product."
Grooming Products
Hemp Shampoo for Pets
Voyager (stand A6)
Judges said: "This is a completely different product from others on the market, giving it a unique selling point. It's also eco-friendly and sustainable."
New Product Award Winning Photographs:
Photographs of the presentations are available at https://rileyphotos.dphoto.com/album/y8p2d2
For more information contact Neil Pope at press@impact-exhibitions.com or on 07595 442601.