PATS sponsors Dogs for Good puppy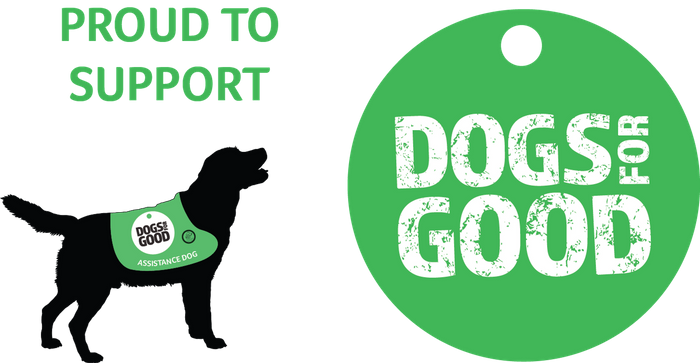 The UK's number one pet trade exhibition – PATS – is extending its support of the Dogs for Good charity by sponsoring a puppy called Winter.
The PATS donation will help Winter through her important first year with a puppy socialiser, and fund a starter kit including crate, bed, food, water bowls, toys, identification working jacket, lead flash, collar and lead.
Dogs for Good, who train assistance dogs for adults and children with physical disabilities, became PATS' chosen charity earlier this year and were given great receptions at both the Sandown and Telford shows. As well as collecting donations from visitors and exhibitors during the exhibitions, the charity were given items from the New Product Showcase to use as competition prizes at their many events.
PATS organiser Gordon Thomas said: "We're delighted to be sponsoring Winter. She's very cute and, by all accounts, an extremely lively puppy.
"Dogs for Good are a wonderful charity, helping to change many people's lives through their outstanding work. We are proud to have them as our chosen charity and look forward to supporting their valued work in the future."
Winter – a Labrador x golden retriever – will spend a year with her socialiser Katy, who lives in Milton Keynes, before returning, at around the age of sixteen months, to the charity's training centre in Banbury. Already, she is starting to show some of the characteristics required in a fully trained dog – confidence, an interest in people and in playing.
Katy will start teaching Winter basic obedience commands. She will learn to sit and wait for her meals, being released from her wait with the sound of a whistle. This gives Winter an association between the whistle and food, which can then be used to teach her recall when she's a bit older.
Winter has an exciting year ahead with lots to learn and it's too early to predict how her personality and behaviour will develop. But with the love and support of Katy and her family and the team at Dogs for Good, she has every chance of success.
Dogs for Good will again be present at PATS Sandown, where the team will be able to give an update on Winter's progress. The exhibition at Sandown Park in Surrey takes places on Sunday and Monday, 10th-11th February 2019. For full detail visit www.patshow.co.uk
Ends 21st November 2018
For more information contact Neil Pope at press@impact-exhibitions.com or on 07595 442601.