PATS Telford 2021 New Product Awards revealed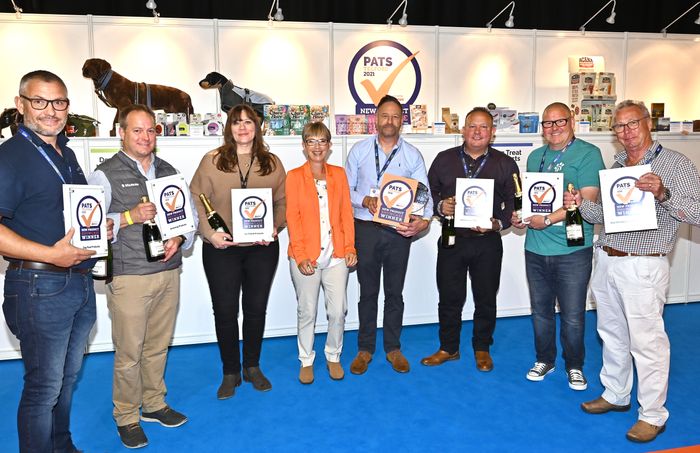 PATS Telford 2021 New Product Awards revealed
The winners of the PATS Telford 2021 New Product Awards, sponsored by pbwnews, were chosen by a team of expert pet retailers, who arrived at the show before 9.30am on Sunday, September 26th, in order to make their choices from a record number of over 300 new products entered.
Their decisions took into account a number of guideline criteria such as product innovation, design, quality, packaging, value for money and sustainability.
The judges agreed that the New Product Showcase had produced a high calibre of entries with a tremendous amount of innovation. They were pleased to see such a wide range of products, and felt the majority of items on display showed some great innovation.
The Awards were presented to the winners at 1pm on Sunday by Justine Thompson, editor of pbwnews, and show organiser Gordon Thomas.
Here is a full list of the winners together with the judges' comments:
PATS Telford 2021
New Product Award Winners (sponsored by pbwnews)
Cat Food and Products
Huskaloo Coconut Cat Litter
Tailor-Grace (stand C30)
Judges said: This is a natural alternative that fits well on the shelf and looks like it would appeal to cats.
Dog Food Products
Butcher's Block
Cotswold Raw (stand C40)
Judges said: This single protein range, straight from the butcher's block, is a great addition to the raw food market, and was a worthy winner of this competitive category.
Dog Treat Products
Louis & Ada Natural Treats
Naturaw (stand C24)
Judges said: These 100% natural dog treats made from British meat fit the green agenda. The packaging is colourful and also compostable, making this product a good addition to the treats markets.
Dog Accessories and Toys
Jawables Bad Boys
Ancol (stand A12)
Judges said: This tough bonded fabric plush toy is fun, eye-catching and very cute. The solid material will make it a long-lasting toy. It will be a big-selling product.
Dog Harnesses, Leads and Dog Wear
AK-9 Dog Lead
Vetfleece (stand H11)
Judges said: This product is eye-catching, sturdy and very strong with a fast action clip.
Small Animal and Bird Products
Henry Bell Sterling 3-in1 Squirrel Proof Feeder
Mr Johnson's (stand C36)
Judges said: Seeds, fatballs and peanuts can be encased in this squirrel proof feeder. This price is fantastic and we would be very happy to stock it.
Pet Care Products
DoggyRade Pro
DoggyRade (stand F53)
Judges said: This isotonic rehydration drink is a good price and helps dogs to recover from tummy trouble.
Grooming Products
Noodle Drying Towel in Display Unit
Henry Wag (stand F40)
Judges said: Retailers will sell large numbers of this great multi-use product thanks to this well-designed point of sale display unit.
Business Services
Personalised Memorial Hanging Sign
Memorials for Your Pet (stand H51)
This is a new category this year, and the judges said it's lovely to see this original memorial for people's beloved pets.
New Product Award Winning Photographs:
Photographs of the presentations will be available online on the web gallery of our official show photographer, Stewart Writtle