PATS Telford is the BEST place to launch new products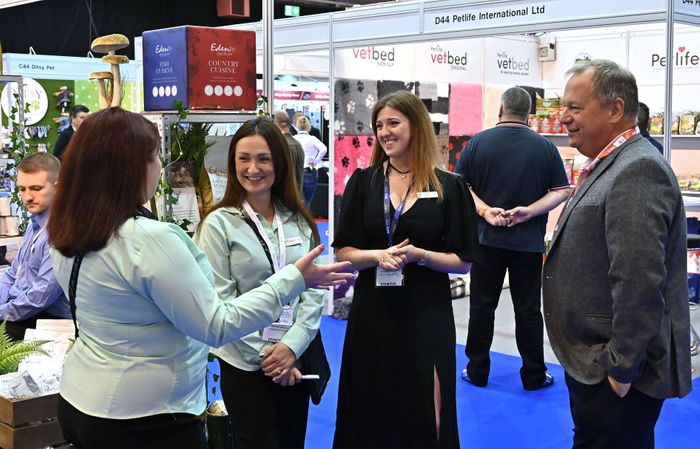 As the number of exhibitors at PATS Telford in September surpasses the 200-stand mark, emerging businesses have revealed why they feel it's the BEST place to launch new products.
Plans are well advanced for the UK's National Pet Industry Event, which takes place on Sunday, 1st October, and Monday 2nd October 2023, at Telford International Centre in Shropshire.
The New Starter Zone, supported by PetQuip with media partner PPM, is one of the most exciting additions to the show with start-up companies taking advantage of the dedicated area in Hall 3. Already 18 companies have signed up to exhibit in the Zone, where companies launched in the past three years are being given the chance to showcase their product ranges and services.
Tangle, a new company that collects end-of-life fishing nets from ports and recycles them into sustainable dog products, will be taking a stand in the Zone. The company's Sam Cartwright said: ""After speaking with a ton of retailers and being told that PATS Telford was the go-to trade event, we knew we had to attend. We're excited to showcase our products and connect with buyers. We'll be debuting some new products and really look forward to getting them into the industry's hands."
Another New Starter Zone exhibitor is No Fuss Fill, an enrichment toy filler. "As the leading UK pet exhibition, PATS was the obvious choice for us to showcase the popular No Fuss Fill range," said Tracey Powiesnik. "We are looking forward to meeting potential customers whilst unveiling exciting new products that enable retailers to boost their revenue and delight their customers."
It's a similar story for Paws in Earnest, whose owner Melissa Smith revealed: "We have regularly attended as a visitor, and it's always been our goal to exhibit. This year we are launching an exciting new pet enrichment product and felt that now was the perfect time. We hope to meet lots of businesses that are looking to expand their enrichment range."
Pettle Pets is taking advantage of the New Starter Zone to introduce its new range of luxury pet care products. "We chose PATS to showcase our products because of the quality and range of buyers attending the show and we look forward to seeing everyone at our stand," said the company's Nick Salter.
Other companies exhibiting in the New Starter Zone include: Dernier and Hamlyn, Dot Dot Pet Co, Extreme Lounging, Furr Boost, Injoya, Ralph & Co, Simon's Kitchen, Snif Snax, Snoots & Sploots, Walker & Drake and Wyld Cub.
Irish company Borvo Nutrients, which manufactures a range of superfoods for dogs, will be travelling from its County Wicklow base to exhibit at PATS Telford for the first time. Tom Shearer said: "We're excited to exhibit at PATS Telford 2023. The UK is a key market for our business and PATS is the leading pet show in this market. We will be launching three new, innovative, supplements for dogs targeting dental, joint and gut health."
Many other pets brands are new to exhibiting at PATS Telford, including: Aloise & Co, Aniforte, Bona, Cocopup, Coveris, COYA Pet, Fetched, Fountasia, Inspired, Kittilitt Cat Litter, Pooch & Hound, Poorly-Paws, ProTrainings, Rogz, Rosetta Brands, Star Pets Wholesale, Sure Petcare & Home Again, and The Animal People Recruitment Company.
PATS Telford is also attracting a host of international companies like Italian business Di Fillippo Legnami. Sale Di Filippo commented: "We decided to take part in the exhibition because of its importance in the British pet care sector. We believe it will fulfil our purpose of finding reliable distributors in the UK market. We are going to present new natural and biodegradable litters for cats and small animals."
Di Fillippo Legnami will be joined at the show by another Italian brand Imac Pet Products, as well as companies from further afield like Earthz Pet from New Zealand, and Zoo Med Laboratories from the US
"It is great to see so many new companies at PATS Telford, both from the UK and overseas," said show director Gordon Thomas. "They will be joining an impressive line-up of regular exhibitors at the biggest show we've ever staged. The exhibition will now fill three halls at the Telford International Centre so visitors can be certain of seeing the most comprehensive collection of new products from the industry's best brands."
Pet product retailers and buyers can now register for free entry to PATS Telford at the new look website www.patshow.co.uk where a full list of exhibitors can also be found.
Ends
Photographs of PATS Telford 2022 are available to download at https://stewartwrittle.dphoto.com/album/xyaf42
For further media information please contact Neil Pope by email press@impact-exhibitions.com