PATS Telford breaks 2,000-visitor mark…AGAIN!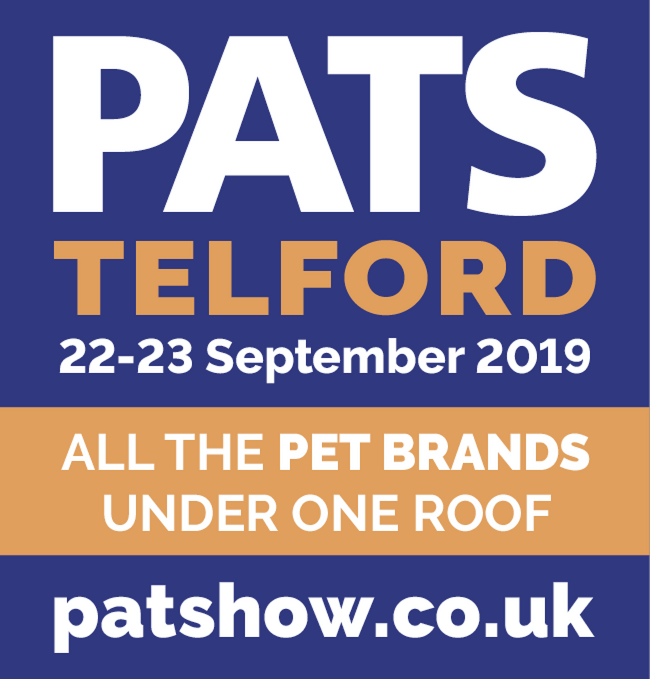 The number of visitors attending the two-day PATS Telford show has broken the 2,000 mark for a fifth successive year.
A total of 2,103 visitors went through the doors at the impressive Telford International Centre, an increase of 2.7% on last year and one of the highest PATS attendance figures on record.
The successful show closed with visitors and exhibitors agreeing it had been a great success, with the event delivering an unrivalled platform for the launch of hundreds of exciting new pet product innovations.
Organiser Gordon Thomas said many of the companies exhibiting at PATS Telford were eager to point out the quality of people visiting their stands had been of the highest standard.
"Exhibitors told us they met with the key decision makers and buyers, and that was good to hear because we put in place measures that ensured the right people attended.
"Overall the response to PATS Telford 2019 has been excellent and positive, and proves that the pet industry is firmly behind this show."
Anne Wood, of Broadreach Nature+ summed up the mood of the exhibitors, saying: "PATS Telford has a special place in our hearts because we launched there in 2015, and it's great to report that the show keeps getting better. The main highlights for me this year were being able to meet some of my lovely customers face to face, and being able to make new connections in business. The show is firmly on my calendar to attend every year."
Trespaws was one of 66 new exhibitors at this year's show and the company's Morag Muir said it had been a great success. "We were absolutely delighted with the amount of interest shown in Trespaws and as a result we opened some fantastic new accounts and met some lovely people within the industry."
The number of visitors attending the show is clear evidence that PATS is the only pet trade exhibition where retailers and buyers can view all the latest launches under one roof.
Paul Lewis is General Manager of Just for Pets, which was voted UK Pet Retailer of the Year at the PetQuip Awards and has 16 stores in the Midlands. He said: PATS is a great showcase for everything that is available under one roof. It gives you the opportunity to build relationships not only with suppliers but also other retailers so you can continue to build your business, ask for advice and help each other out. The Just for Pets team see this show
as a key date in the calendar."
And Nikki Harris, owner of TFM Countrystore, Lincoln, commented: "PATS, as always, impressed me. I wouldn't miss it and I send as many staff as possible so we get the full benefit of this fantastic show and all it offers."
Meanwhile, Bev Nicholson, owner of Mutts Nutts Pet Shop, Peterborough, said: "Visiting PATS is essential for a pet shop owner. The New Product Showcase is so useful – to have all the items in one place makes keeping up with new trends and innovative ideas so much easier."
Nikki Eggington, of Tara's K9 Hydro & Dog Grooming, Shrewsbury, said: "I absolutely loved PATS. It's a fantastic event where great relationships can be forged with independent suppliers. PATS is my 'go to' event of the year."
The focus now turns to PATS Sandown in Surrey, on Sunday 9th and Monday 10th February 2020, and PATS Telford on 27th-28th September 2020. For all the latest information about the show visit www.patshow.co.uk.
Photographs from the show are now available to download
1. Visit www.sirastudio.com
2. Click on Galleries
3. Click on the Conference and Exhibitions folder
4. Click on the PATS Telford 2019 folder
5. On the password screen enter: pats19telford
For more information contact Neil Pope at press@impact-exhibitions.com or on 07595 442601.