PATS Telford set for its biggest ever show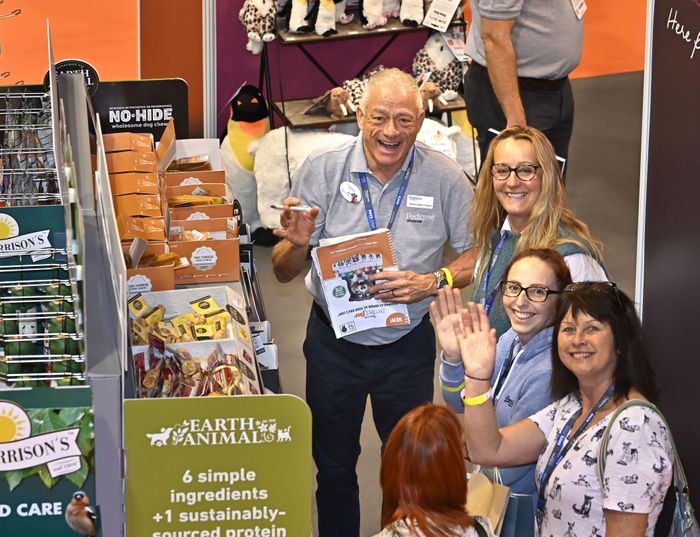 PATS Telford, the UK's number one pet industry exhibition, will stage its biggest ever show in September.
The two-day event on Sunday, September 25, and Monday, September 26, will be staged in three halls of Telford International Centre with exhibiting stands extending into Hall 3 for the first time.
More than 200 companies and brands have already booked stand space, and the final total is expected to be around 230, which would be a record for a PATS exhibition
A growing number of new companies have chosen to exhibit at PATS Telford, and as a result the event organisers have introduced a New Starter Zone in Hall 3.
"The demand for stand space at PATS Telford has been phenomenal, so we took the decision to extend into Hall 3," said organiser Gordon Thomas, of Impact Exhibitions and Events.
"It's great to be able to offer pet start-ups the chance to showcase their new products and services in the New Starter Zone, and again the take-up has been really good."
A total of 40 extra stands will be located in Hall 3, and those companies having already booked their place include: Poochiful, Paws the Planet, Shredhouse, TRM Pet, Healthy Option Pet Food, Noochy Poochy, The Doggy Baking Co, maxxipaws, Pack Leashes, Kompact9 and Benebone.
Poochiful will be exhibiting for the second time at PATS Telford and managing director Ryan Lord said: "We can't wait to meet the UK and international buyers at the show. The first exhibition really helped the brand get noticed and we are hoping to capitalise now the brand has had a lot more exposure."
And Greg Fraser, founder of The Doggy Baking Co, commented: "We're really looking forward to returning to PATS for our second ever pet trade show. We were thrilled to win the New Product Award for Dog Treats when we were at the Sandown show earlier this year and cannot wait to share our new products with the UK and International attendees of the Telford show."
Maxxipaws will be making its first appearance at a PATS show and owner Birgir Gislason said: "We are very excited to be exhibiting at the show in September and introducing our range of unique formulation supplements to the many UK and overseas retailers who will be visiting."
As well as seeing and touching an unrivalled array of products in the New Product Showcase, sponsored by pbwnews, visitors will also be treated to demonstrations from leading dog groomers.
PATS Telford will also see a return of the International Buyers Centre as more overseas visitors are expected to attend following the pandemic. The centre will be run in association with PetQuip, which will also be staging its prestigious industry awards after the first day of the show.
Trade association manager Pat Flynn said: "It is a pleasure to be working alongside the PATS team once again, helping to deliver international buyers to the show. We will also be celebrating innovation in the pet industry by announcing the winners of the PetQuip Awards 2022 at a special awards party on the Sunday evening. We look forward to seeing everyone and to working with such a professional team from PATS."
All visitors to PATS Telford will receive a free catalogue, free tea and coffee, and free parking, and you can register online for free entry at the PATS website www.patshow.co.uk.
A full and up-to-date list of exhibitors is available on the website together with information on how to reach the venue and regularly updated show news.
Ends
Official pictures of PATS Telford 2021 can be downloaded by visiting https://stewartwrittle.dphoto.com/album/9c87fw
For more information contact Neil Pope at press@impact-exhibitions.com or on 07595 442601.