PATS Telford set to return with biggest ever show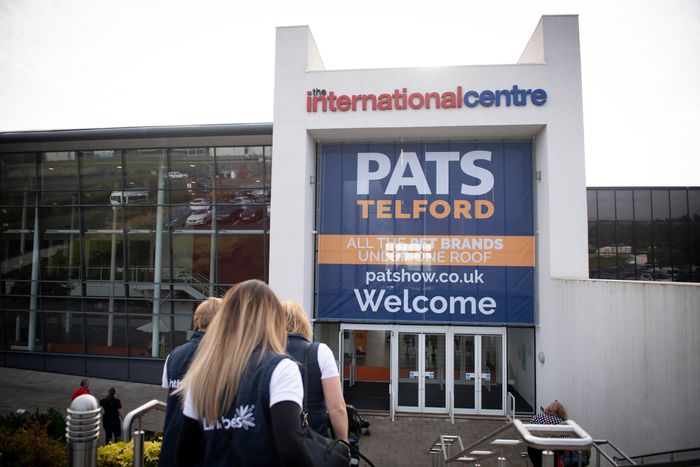 PATS Telford, the UK's number one pet industry exhibition, is set to return in September with its biggest ever show.
The two-day event on Sunday, September 26, and Monday, September 27, will be staged in three halls of Telford International Centre instead of two for the first time.
More than 170 companies have already booked stand space with 30 of them being new, and the final total is expected to be around 190, which would be a record for a PATS exhibition
With such a large number of brands eager to unveil new launches, the New Product Showcase, sponsored by pbwnews, has been increased in size, and a new category – Business Services – added to the Awards to make nine in total.
There is great excitement and anticipation surrounding this year's PATS Telford as it will be the first 'live' UK pet industry exhibition since PATS Sandown in February 2020 just before the Covid-19 pandemic struck.
"It is great to be able to stage an event where the whole pet industry is able to meet in person for the first time in more than 18 months," said organiser Gordon Thomas, of Impact Exhibitions and Events.
"The pet trade has changed significantly since our last show at Sandown in February 2020, especially because of the rise in pet ownership during the pandemic. There are great opportunities for innovative companies, and we know a lot of them have lots of new products to unveil at the show."
Online registrations for visitors are also above expectations as buyers and retailers appreciate the opportunity to meet up with their suppliers again and view all the latest innovations.
Telford International Centre, the venue for PATS, is already open for business, having hosted its first exhibition since restrictions were imposed.
"We recently played host to 'The Summer Furniture Show'," said Diane Austin, Director Of Operations. "Visitor numbers were massively increased from their last event, reflecting the importance of an industry wanting to meet in person again, and also the desire to see products tangibly.
"Exhibitors, visitors and the organisers were happy and it was just fantastic having an event in the venue and everything feeling quite normal.
"We are very much looking forward to hosting PATS Telford in September – knowing the thrill and the many business benefits to come from this live exhibition."
As well as seeing and touching an unrivalled array of products in the New Products Showcase, visitors will also be treated to demonstrations from the country's leading dog groomers and talks from prominent industry figures.
The prestigious PetQuip Awards, which recognise outstanding achievements within the pet industry, will also be taking place during PATS Telford on the evening of the first day.
For a full list of exhibitors and the latest information on the show visit www.patshow.co.uk
Ends
Photographs of PATS Telford 2019 are available as follows:
1. Visit www.sirastudio.com
2. Click on Galleries
3. Click on the Conference and Exhibitions folder
4. Click on the PATS Telford 2019 folder
5. On the password screen enter: pats19telford
For further media information please contact Neil Pope on 07595 442601, or email press@impact-exhibitions.com