Why PATS Telford is a must-visit exhibition for pet retailers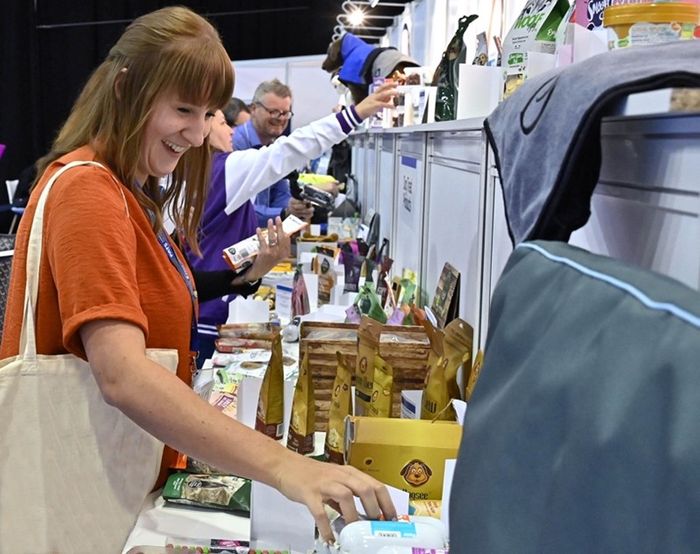 PATS Telford, taking place on Sunday, 1 October, and Monday, 2 October 2023, will be packed solid with more than 250 leading companies and brands eager to exhibit their products and services to visiting UK and international buyers.
The UK's National Pet Industry Exhibition acts as a springboard for all the latest launches into the market and brings together pet product suppliers and retailers under one roof at the Telford International Centre.
As excitement starts to build for PATS Telford, a regular visitor reveals why the show has become a must-visit event for pet retailers and buyers.
Georgia Bullimore is head of buying at Bertie's Pet Store, Portishead, Bristol.
What inspires you to visit a major pet industry exhibition like PATS?
For us as a business, visiting an exhibition like PATS is a great opportunity to find out more information on certain brands and get a feel for new products before ordering them into the store for the first time.
How important is it to see all the new launches under one roof?
Seeing all the new launches under one roof helps us save time when it comes to researching and finding new products to keep in stock in our store. It's a great way of finding product launches that we otherwise may have missed.
Is it better to touch and feel new products rather than seeing a picture of them online?
Absolutely, when it comes to ordering in new products, we like to know exactly what we are getting. So, visiting somewhere like PATS where items are out on display for you to see and feel is a huge bonus, as well as being able to talk to suppliers about their products. We like to know exactly what we sell in our store and be able to pass on the best advice and information to our customers when they are buying from us.
Are your buying decisions for the year ahead based on a visit to PATS?
We come to the shows mainly to find out about new start-ups and new products available. Being able to get promotional deals at the show is always a bonus!
Is it an easy show to find your way around?
Yes, even though it is a large show we have always been able to find what we are looking for.
Do you enjoy meeting your suppliers face-to-face and do you welcome the other networking opportunities?
Yes, we do, it's great way to catch up with suppliers, especially those we don't always see regularly. It is also great to be able to talk to other businesses, similar to ours, and share ideas.
Would you recommend visiting the show to other retailers and buyers?
Yes, we would.
Registering for PATS Telford
For all the latest information on PATS Telford visit www.patshow.co.uk, where you can also register for free entry to the show.
Opening times
Sunday 1st October 2023: 9.30am-5.00pm


Monday 2nd October 2023:
9.30am-4.00pm
Photographs of PATS Telford 2022 are available to download at https://stewartwrittle.dphoto.com/album/xyaf42
For further media information please contact Neil Pope on 07595 442601, or email press@impact-exhibitions.com