Pet Food Finally Gets Unpackaged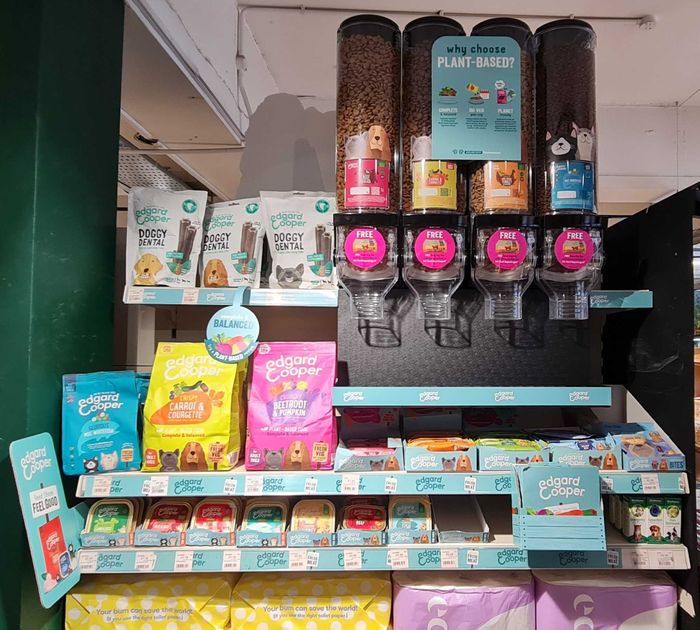 It's clear the move to less packaging – or removing it completely, for the benefit of our planet is not slowing down. Brands and retailers are testing and watching new business models unfold in a race to lead when it comes to showing that their environmental conscience is a shopper reality, not just words on a page. Whilst 81% of Brits revealed they want refillable products to be a top government priority.*

Until now, this movement had not reached petfood, perhaps surprising given the huge contribution pets have to our carbon footprint and waste product. This is only increasing as we see a further 3.2M pets acquired during lockdown, taking the number of Cats and Dogs alone to an estimated whopping 24M!**

In their mission to be the most sustainable pet food brand, Edgard & Cooper were already leading the way when they confirmed their dry food packaging can be recycled with paper waste, making the whole range easily recyclable - now they have gone a step further.

Pet lovers in Bristol can now visit Better Food's St Werburgh's and Clifton stores to fill up their own reusable containers of healthy, delicious dry food for dogs and cats… without the packaging. The trial which is set to run indefinitely in these two stores, has been set up to prove the fundamental question – will shoppers do the same with their pet food. Seemingly simple, yet it has yet to have been proven.

Aside from the benefits of less packaging, one of the best advantages of self-serve kibble is that pet parents can choose a quantity that works for them, depending on the number (and size!) of pets in their household. The brand has ensured that refilling will offer shoppers both the flexibility and great value for money too.

Edgard & Cooper were already the sole choice of pet food stocked by the independent specialist grocer, due to their alignment in values; Striving to raise the bar in quality, sustainability and ethics when it comes to grocery shopping. Better Food shoppers are already familiar with unpackaged/refill shopping in the note worthy refill whole sections of the stores.

Kevin Hodder, Buying Manager at Better Foods said "We're excited to be the first retailer in the UK to sell Edgard & Cooper as a refill option. Our customers love to find new ways to save packaging and waste, and this fantastic addition to our range, from an ethical and environmentally conscious producer, is sure to be popular."

Cat owners will find their bestselling Glorious MSC Whitefish and dog owners can choose from three enticing flavours: Grass-Fed Lamb, Organic Beef and the brand NEW Crispy Carrot and Courgette, a nutritionally complete and balanced plant-based recipe. Better Food was also a perfect retailer to range the brand's new plant based range which offers complete nutrition but offers requires lower carbon outputs to produce. The brand will continue to be available in recyclable packaging options too, in order to give consumers choice, and allow the company to understand what people prefer.

If the trial is successful the brand plans to develop it's refill model further and take the shopper-led proof of concept to explore fully circular operations in the future – an even tougher challenge to crack, but not one they will shy away from. This relentless effort to tread lighter on the planet is all part of their Zero Pawprint Plan, which aims to reach zero carbon, fully sustainable packaging and 100% ethical sourcing by 2025.

Find out more at www.edgardcooper.com/zpp

- Ends -
Notes to editors
* Source: polling commissioned by Friends of the Earth in partnership
https://friendsoftheearth.uk/sustainable-living/world-refill-day-brits-demand-government-actionplastic
** Source: PFMA, 2021 https://www.pfma.org.uk/news/pfma-releases-latest-pet-populationdata

For further information, more picture or future updates please contact:
Edward Yuen
Marketing Pack Lead at Edgard & Cooper
eddy@edgardcooper.com