Pet industry reunited at spectacular PATS Telford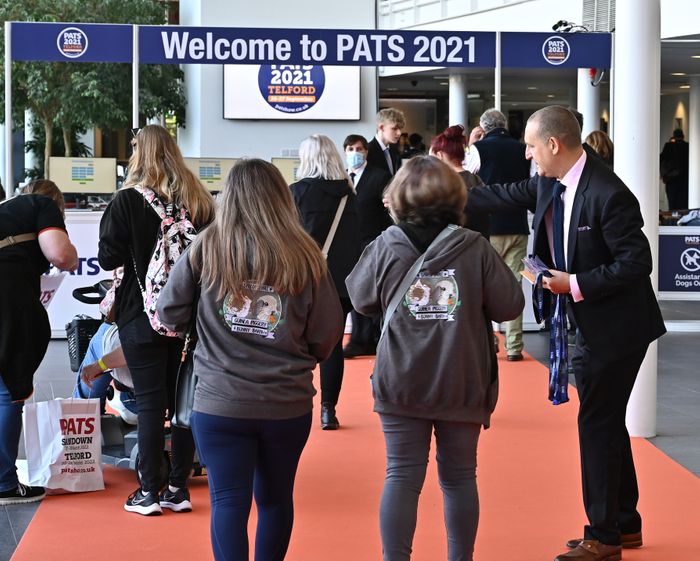 The UK pet industry was able to reunite for the first time in more than 18 months when the doors at PATS Telford opened on Sunday (September 26).
There was an amazing buzz in the exhibition halls at Telford International Centre as suppliers and retailers met face-to-face at the UK's national pet industry exhibition.
More than 190 companies showcased a record number of new products and the mood throughout the opening day was really upbeat.
Steve Driver, of Pet Trade Innovations, summed up the atmosphere, stating: "People have waited a long time for the return of PATS and that has been reflected in the way everyone has responded. Our stand has been busy throughout the day – in fact, we couldn't keep up with the amount of inquiries. The number and the quality of visitors have both been fantastic. It has been the best show ever."
It was the same story throughout the exhibition as stands were busy throughout the day.
Ancol won a New Product Award with its Jawables Bad Boys toy, and director Simon Lane said: "Picking up an award put the icing on a great day. It's our 50th anniversary and we wanted to celebrate in style at PATS. Lots of visitors have been drawn to the stand and we've had some great conversations with buyers. I'm really pleased we've returned to this fantastic show."
Grantley Rogers, of Henry Wag, was also presented with a New Product Award for the brand's Noodle Drying Towel, and admitted that the accolade had created lots of interest on his stand, especially from potential new customers. "Everyone seems pleased the industry is able to meet up again under one roof. It has been a brilliant opening day."
Marriages brought a hint of fun to proceedings with its hippy theme of 'peace love and sustainability'. Suitably dress for the occasion, Sam Marriage said: "We always like to add a bit of colour to proceedings although our message of 100% recycled, recyclable and biodegradable is a serious one. It's a message that has gone down well with visitors to our stand. It has been an excellent day.
Retailers have also welcomed the opportunity to meet up with their suppliers and to see, touch and feel all the latest additions to the market.
One pet shop owner remarked: "It has been a challenging year, so having the chance to see what's new is very welcome." Another added: "We're here for both days and we're so glad we made that decision because there's so much to see."
As well as all the new products showcased, visitors have also been treated to talks by leading industry figures and demonstrations from professional groomers.
The second day of the show – Monday, September 27 – opens at 9am with the doors closing at 4pm.
Official pictures of the show can be downloaded by visiting https://stewartwrittle.dphoto.com/album/9c87fw