24 Jan 2020
PAW Slow Feeder and Lick PAW Pad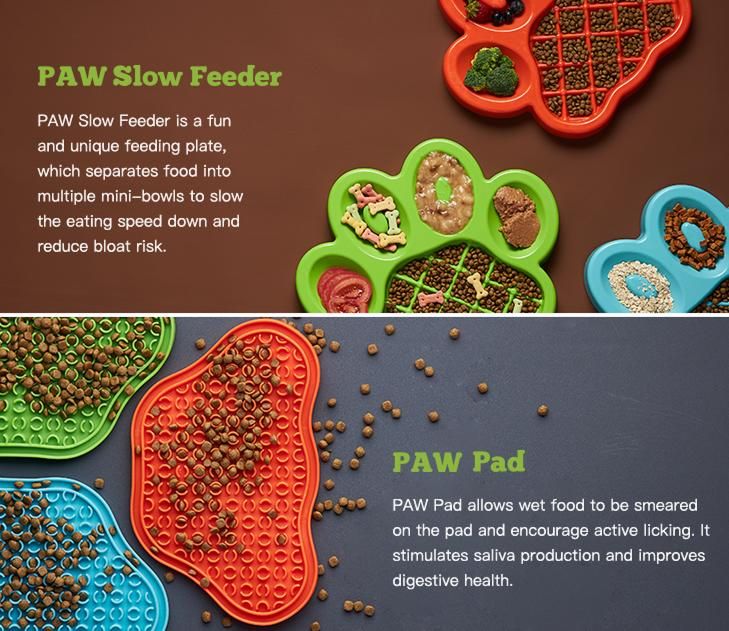 PetDreamHouse Interactive Feeding System (IFS) is our home brand focused on feeding accessories. The goal of IFS is to bring innovative products that turn feeding into an interactive activity. We believe in the concept of game-like slow feeding wherein not only it is fun and exciting, but also beneficial for health.
In a fast-paced environment that we all live in today, we often don't have much time to sit down and have a slow, calm meal. Many dogs, though less stressed than we are, seem to follow along with this notion – they chew and swallow their food at a rapid pace. And yet before you manage to put your dog's favourite food bag back on the shelf, the bowl is already empty! Not only it's not much fun for dogs to eat their meals fast, but it can also be quite unhealthy for them and cause digestive issues and upset stomachs. Let's be honest, that's the last thing you want for your furry friend.
PetDreamHouse PAW Slow Feeder provides multiple feeding options to slow down the dog's eating pace naturally. The unique paw design features three feeding areas including two standard bowls, two gulp-stoppers, and a mini-meal area which separates food into small pockets.
The PAW Slow Feeder is also designed to go along together with the PAW Pad – A lick pad encourages active licking. Active licking keeps the pet calm and entertained. It can also stimulate saliva production to improve digestive health. Spoil your four-legged friends with a healthy food licking game using the soft PAW Pad. It is perfect for sticky treats like yogurt, gravy, soggy biscuits or peanut butter. Apart from the yummy taste, licking also stimulates the release of endorphin (the"feel good" hormone) which gives a feeling of comfort and pleasure to reduce anxiety.
Both PAW Slow Feeder and PAW Pad are made from human standard food-grade ABS/TPE materials, BPA-FREE & PVC-FREE. They are also freezer friendly and dishwasher safe (top rack).