PetQuip Awards event results in memorable night for the UK pet industry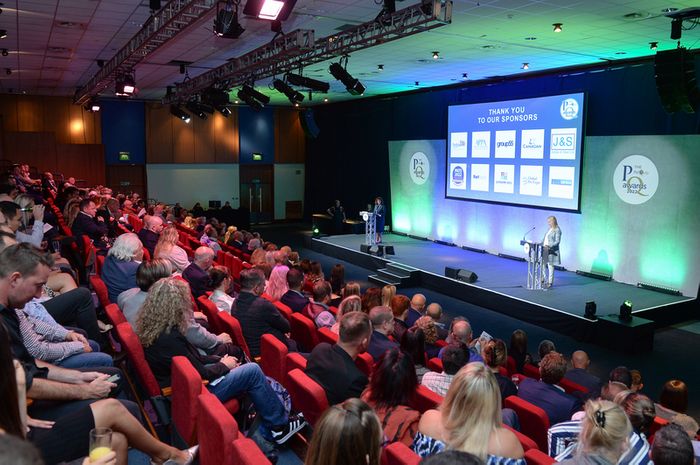 The UK pet industry celebrated in style during the announcement of the PetQuip Awards 2022 on Sunday (25th September) when companies were honoured for their outstanding performance during the past year.
A packed gathering of retailers and suppliers attended the awards presentations which were held after the first day of PATS Telford.
The event, presented by Pat Flynn, PetQuip trade association manager, and Amanda Sizer Barrett MBE, director general of the PetQuip association, included 12 gold and 10 silver awards, plus six highly commended awards and a special Lifetime Achievement Award for PATS organiser Gordon Thomas.
Two new categories – 'Celebrating Green & Organic' and 'Sustainability Award' – were introduced this year to reflect on how an increasing number of businesses have embraced 'eco' initiatives.
At the close of the event, Amanda Sizer Barrett said: "The enjoyment evident on the faces of so many people from the industry at our event has made it all worthwhile. The association is proud to recognise all the hard work, innovation and teamwork demonstrated by our industry.
"In addition to seeing so many happy winners, it was really rewarding to witness everyone enjoying the fruits of their labours and the positive networking that took place between suppliers and buyers during the evening."
Here is a full list of the award winners:
Exporter of the Year (Theresa Swann Trophy)
Gold Award: Tailor-Grace
Silver Award: Podium Pet Products
Highly Commended: Little Big Paw
The judges praised Tailor-Grace for providing strong back-up support to its overseas distributors, and with the incentives it offered, including percentage rebates on each sale.
Celebrating Green & Organic
Gold Award: Podium Pet Products
Silver Award: Tailor-Grace
Highly Commended: Doggy Doggy Yum Yum
The judges loved the idea that the inspiration for Podium's natural care range came from an old family recipe book for farmhouse animal husbandry, using hedgerow and nature's harvest ingredients. Packaging of the products is limited to as little as possible and is completely recyclable.
Supplier of the Year
Joint Gold Award – Butcher's Pet Care and Mutneys Professional Pet Care
Silver Award: Pet Trade Innovations
The judges agreed there should be joint gold winners in this category, celebrating service from a small company trading under £1m in turnover, to a larger one trading over £1m. Both provide exemplary service and customer satisfaction.
Business Service of the Year
Joint Gold Award: Pedigree Wholesale and Bruce's Doggy Day Care
Silver Award: Tuft App
Highly Commended: Shropshire Canine
The judges felt that the joint gold winners were passionately driven businesses, based on old family principles and delivered by experienced personnel.
Sustainability Award
Gold Award: Butcher's Pet Care
Silver Award: Rawgeous Pet Food Co
Highly Commended: The Green Poop Bag
The judges described the gold winner as a family business doing things its way and getting it right. The company specialises in no-waste farming to bring naturally nourishing dog food to the market. It uses natural ingredients, British and Irish in origin, to reduce the carbon footprint, and all packaging is recyclable.
Product of the Year – Accessories/Technical
Gold Award: Concept Research – Pest Controller
Silver Award: Pedigree Wholesale – AI Flashing Bandana
The judges awarded gold to a UK-manufactured product which deters mice in a humane way. It's a cost effective and excellent alternative to poisons.
Product of the Year – Food/Treats
Gold Award: Furr Boost – Smoothie Drinks
Silver Award: Tailor-Grace – Oggi's Bake at Home Dog Treat Mix for healthy dogs
Highly Commended: Akela Pet Foods – Free Range Chicken Complete Working Dog/Puppy Dry Food
The judges felt the gold award winner deserved recognition with an idea based upon a dog which had bladder problems, refusing to drink enough water in the summer months. Through research and product development a totally new idea has been brought to market, not seen before – smoothies for dogs.
Product of the Year – Healthcare/Grooming
Gold Award: Watermans – PH balanced formulated pet wash
Silver Award: For All Dogkind – Range of Calming Spray, Breath Freshner and Leave-In Conditioner
Highly Commended: GWF Nutrition – Raw Aid for cats and dogs
In the words of the judges, the gold award winner has formulated a product that looks different and smells amazing.
International Retailer, Wholesaler or Distributor of the Year
Gold Award: Eye4Pets, The Netherlands
Silver Award: Wanimo, France
The judges were impressed by the fact this Dutch business is always on the look-out for equipment and accessories that are truly different and of excellent quality. The company likes to work with family businesses that understand it takes time to establish a brand in a new market.
UK Retailer of the Year
Gold Award: The Ark, Devon
Silver Award: Trusty Pet Supplies, Derbyshire
The gold award winner was praised for its fantastic and colourful displays, friendly and knowledgeable staff, the efficiency of service plus excellent and innovative new ideas such as its Kids Club Dog Wash.
Lifetime Achievement
Gordon Thomas, Organiser of PATS Telford/Sandown, AQUA and BETA International
The judges felt Gordon deserved this high accolade for his outstanding service to the pet industry, organising the successful PATS and AQUA exhibitions. After an illustrious career of working on international exhibitions like Glee, Gordon launched his own business, Impact Exhibitions & Events, with friend and colleague Annie Foord. The first PATS show took place at Sandown Park in 2009 and was swiftly followed by a second event in Harrogate the same year. The move from Harrogate to Telford came in 2015. Gordon and his team also launched the biennial AQUA show in association with OATA, and this year took on the organisation of BETA International equestrian exhibition. Described as being hard-working, incredibly fair and a fun person to be with, Gordon is a worthy recipient of the prestigious Lifetime Achievement Award.
The 2022 PetQuip Awards were supported by APPA (American Pet Products Association), Global Pet Expo, Zoomark International, Pedigree Wholesale, Petface, Canagan, Group55, James & Steel, pbwnews and PATS Telford.
Zoomark International presented Katy Rehm, of the Pawfume Shop, with the special prize of a trip to Italy in time for the show on 15-17 May 2023, including air fare and hotel accommodation.
At the awards dinner following the presentations, the following guests won a digital edition of the Pet Owners Survey produced by APPA: John James of James & Steel and Julie Butcher from Group 55, and Gemma Connolly, of Scoff Paper, won a bottle of champagne, also from APPA.
Please contact PetQuip if you would like to benefit from membership of the association or require any further advice and assistance on:
Email: info@petquip.com
Websites: www.petquip.com
Photographs of the awards are available to download at https://1032.tifmember.com/p/petquip22/petquip-awards-2022
For further press information contact:
Neil Pope
PetQuip PR Consultant
Email: press@petquip.com
This announcement has been issued by Neil Pope PR Consultant on behalf of The Federation of Garden & Leisure Manufacturers Limited from information provided by the Federation or from organisations associated with the Federation's initiatives. Reasonable steps have been taken to ensure that the information it contains provided is accurate. However, Neil Pope PR Consultant assumes no responsibility for information contained within the document and disclaims all liability in respect of such information. Neil Pope PR Consultant shall not be held liable for any losses suffered as a result of issuing this information to the press or its use within the media.